Genetidyne launches its Mediator powered muscle builder GenetiTOR
Aug 5th, 2018
Genetidyne has released a phosphatidic acid powered supplement called GenetiTOR, which is a bit different from all of the other products we've seen using that ingredient. GenetiTOR is, in fact, the first ever flavored formula we know of to incorporate phosphatidic acid.
The all-new GenetiTOR from Genetidyne is primarily a muscle building product. Thanks to its inclusion of the branded Mediator phosphatidic acid, which the brand has dosed at 1.5g per serving, the supplement aims to help users improve strength as well as enhance endurance.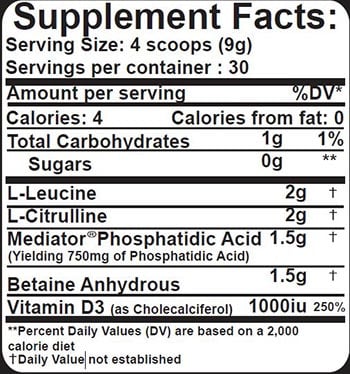 Genetidyne has also thrown a few other ingredients into GenetiTOR to provide even more benefits on top of the phosphatidic acid. Other features the product includes are 2g of pure citrulline for better muscle pumps, 2g of leucine to enhance muscle protein synthesis, and 1.5g of betaine for strength and power.
The latest supplement release from Genetidyne is now available over on the brand's own online store at genetidyne.com. Like a lot of the other phosphatidic acid products on the market, GenetiTOR is priced somewhat high at $62.95 for a full-size 30 serving tub with the one Orange flavor to choose from.