GAT goes fully transparent for its hybrid pre-workout Nitraflex Burn
Sep 8th, 2018
Earlier this week GAT previewed its all-new hybrid supplement, the weight loss infused pre-workout Nitraflex Burn. Just a few days later, the brand has now completely unveiled the product, revealing its fully transparent formula as well as made the new supplement available for purchase.
What is it
As mentioned, Nitraflex Burn is a hybrid product, designed to deliver both weight loss and pre-workout benefits. Now that the supplement has been unveiled we can confirm all of the ingredients GAT has brought together for that 2-in-1 experience, as well as how similar it is to the regular Nitraflex.
Formula
Formula wise, Nitraflex Burn has quite a bit in common with Nitraflex, in that Burn features all of the main ingredients found in Nitraflex except for two. That includes the pump ingredients citrulline and citrulline malate, the performance enhancer CarnoSyn beta-alanine, and of course caffeine.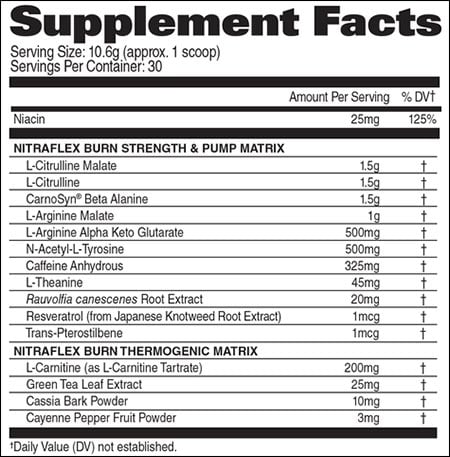 On top of all of the familiar features, Nitraflex Burn also packs four ingredients to take care of the weight loss side of things. For that GAT has thrown in 200mg of carnitine tartrate, 3mg of cayenne pepper, 10mg cassia bark powder, and 25mg of green tea.
Something else you'll notice with the new Nitraflex Burn is that GAT has given it a fully transparent label (above), so you know exactly how much of each ingredient you get per serving. While we have seen the brand do that before with its pre-workout Psychon, the regular version of Nitraflex still uses proprietary blends.
Where to buy
GAT fans can now purchase the brand's all-new weight loss infused pre-workout through the online store on its website. Directly from GAT, Nitraflex Burn will currently cost you $46.99 for a full-size, 30 serving tub with two tastes to choose from in Pink Lemonade and Blue Raspberry.