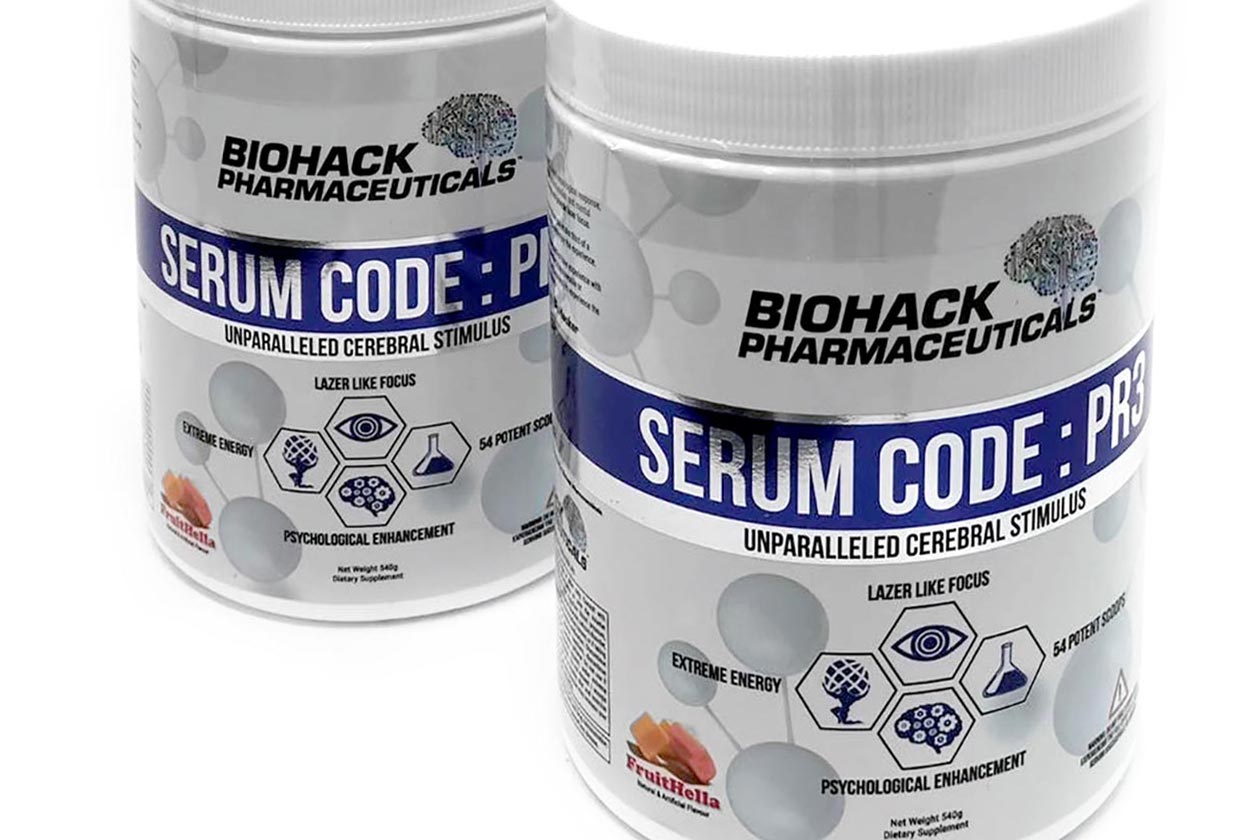 Yesterday we introduced the new UK-based supplement company Biohack Pharmaceuticals and its promising stimulant pre-workout Serum Code PR3. It turns out the brand is currently getting ready to release its second product with the stackable and stimulant-free, pump pre-workout, Serum Code Pump.
What is it
Not too surprisingly, Serum Code Pump is just as loaded as Biohack's stimulant pre-workout, featuring highlights along the same lines as Serum Code PR3's 4.5g of choline and 600mg of caffeine. The supplement's primary focus is to enhance muscle pumps while you workout, which we suspect it'll have no problem doing with the formula it has backing it.
Formula
Like most new products, Serum Code Pump is a fully transparent pre-workout packing a variety of ingredients to help with pumps. In the supplement's maximum serving, some of the features are actually at doses we've never seen before including a huge 10g of pure citrulline, 5g of betaine anhydrous, and 6g of glycerol (65%).
The other pump enhancers in Serum Code Pump's monster formula are 750mg of pink Himalayan salt, half a gram of norvaline, a gram of pomegranate, and 1.5g of sodium nitrate. Biohack has also added AstraGin to the product at a dose of 100mg to help with absorption of everything.
Serum Code PR3 stackable
As mentioned earlier, Serum Code Pump is a stimulant free pre-workout and can be stacked with the Biohack Pharmaceuticals' stimulant formula Serum Code PR3. The brand has actually made it as easy as possible to do that as Serum Code Pump comes in the same flavor as PR3 with FruitHella.
Pre-order
Those interested in giving the incredibly well put together Serum Code Pump a try, can now pre-order the supplement from mybiohack.co.uk. The price on the pump pre-workout is £39.95 (51.03 USD) for a 20 maximum serving tub or £31.96 if you use the coupon "PUMP" while Serum Code Pump is on pre-order.