The innovative company InnovaPharm is launching an entirely new supplement at the end of this week named Genesis-1. The product is a rather unique, multi-effect formula that the brand confidently promotes as "The latest and most potent natural legal supplement for athletes!"
The benefits InnovaPharm promises for its upcoming Genesis-1 include improved health and natural energy, anti-cortisol and adrenal support, and help with optimal testosterone levels. While the effects of the product are quite promising, what's even more interesting is that it's powered by just the one main ingredient.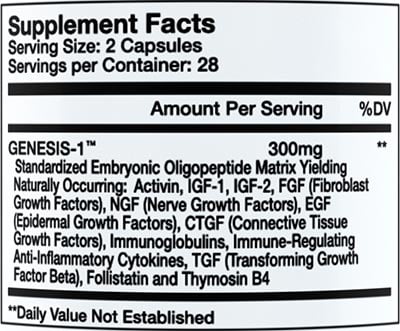 The primary feature behind InnovaPharm's Genesis-1 is a patented and proven embryonic peptide also named Genesis-1, dosed at 300mg per two-capsule serving. The embryonic peptide is said to yield a lengthy list of naturally occurring growth factors including IGF 1 and 2, follistatin, TGF, and many more.
As mentioned, InnovaPharm is looking to launch Genesis-1 later on in the week through its own online store at innovapharm.com. Those interested will be able to pick up the promising supplement in a typical bottle size with 56 capsules designed to supply you for exactly four weeks.