BPI Sports has put together another Niagen (nicotinamide riboside) powered supplement, with its first one being Niagenix which was released early last year. The new product is named Niadex, and while Niagen is a major highlight in it, that is not the only ingredient the brand has thrown into this one.
The upcoming Niadex from BPI Sports has primarily been designed to help with anti-aging by revitalizing communication between cells and creating more mitochondria. The supplement also promotes cognitive benefits including increased clarity, memory, neuroprotection, and alertness.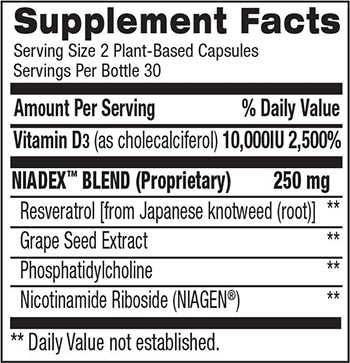 You can see the full mix of ingredients in BPI Sports' all-new Niadex in the supplement's facts panel above. It combines five main ingredients including vitamin D3, and a 250mg non-transparent blend of resveratrol, grape seed extract, phosphatidylcholine, and the star feature, Niagen.
BPI Sports plans on launching Niadex sometime in the near future with no word on its exact price point just yet. It'll be available in the one 60 capsule bottle size, which is enough to last you the usual 30 days when using it at its suggested two capsules, once per day.