Dedicated Nutrition reveals the full formula behind its revamped Vaso Grow
Mar 18th, 2019
Vaso Grow is one of Dedicated Nutrition's longer running supplements which last had itself revamped and reformulated way back in 2015. The product is a pill formula designed to help enhance muscle pumps, and for 2019 it is once again being updated with a new set of ingredients.
As expected from the top-rated Dedicated Nutrition, the all-new version of Vaso Grow features a full mix of ingredients that comes jammed into a hefty ten capsule serving. The supplement still aims to provide an intense 24-hour pump with new features in there to also help improve recovery and insulin sensitivity while prolonging pump.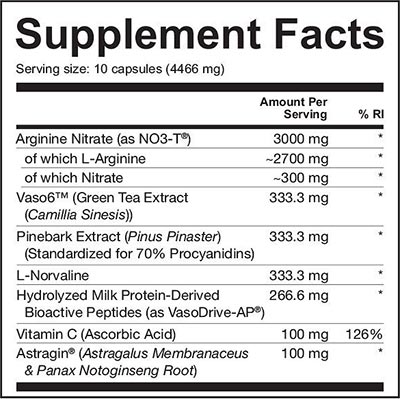 You can see the complete list of ingredients Dedicated Nutrition has packed into its latest version of Vaso Grow in the fully transparent facts panel above. It includes a heavy 3g of arginine nitrate, 333.3mg of Vaso6, norvaline, and pine bark, 100mg each of vitamin C and AstraGin, and 266.6mg of the branded VasoDrive-AP.
Dedicated Nutrition has said that its reformulated Vaso Grow will be available starting next week, which means you'll be seeing it on shelves within the next few weeks. As previously confirmed, the brand will also have it at this year's FIBO Expo taking place in just 17 days over in Cologne, Germany.