After a number of previews and teasers, Rise Performance has finally unveiled its loaded new supplement, the incredibly unique pre-workout formula Hate. The product is built to provide a massive variety of benefits and according to the brand "destroy weight", with more active ingredients than almost every other pre-workout.
Rise Performance Hate comes with a huge 46g maximum serving size that the brand directs users to sip during the 90 minutes leading up to a workout. In total, the supplement comes with over 30 different ingredients including carbohydrates, stimulants, and a full blend of all nine essential amino acids.
Formula
To help improve performance and strength Rise Performance has packed Hate with 4g of beta-alanine, 750mg of creatine HCl, a solid 8g of the pea sourced carbohydrate Carb10. The loaded product also has a couple of features to enhance muscle pumps with 9g of citrulline malate and a hefty 5g of glycerol monostearate.
As mentioned, Rise Performance Hate includes all nine essential amino acids by way of the branded Amino9 blend from Compound Solutions dosed at just under 5g per serving. Alongside the EAAs is the brand's Fuel Drive blend made up of 3g of taurine, 5g of glutamine, and half a gram of acetyl-l-carnitine.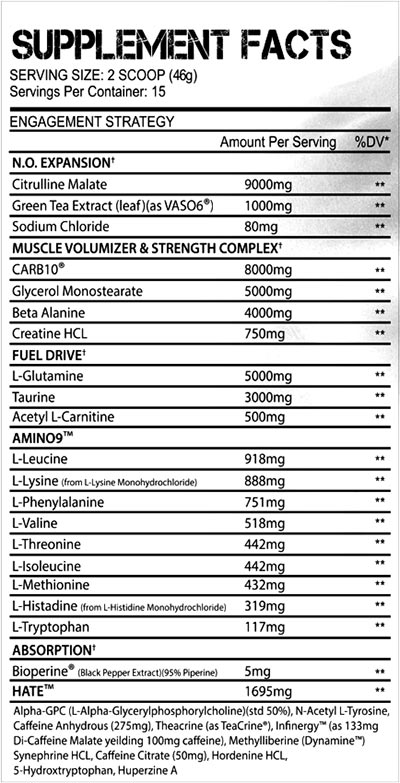 Rounding out the combination of ingredients behind Rise Performance Hate is the only not completely transparent part of the supplement with a 1.695g blend for energy and focus. It includes a few other branded features from Compound Solutions such as TeaCrine and Dynamine, as well as alpha-GPC and three sources of caffeine.
You can check out the full list of ingredients in Rise Performance's new pre-workout Hate in its official facts panel above. It is an impressive formula, bringing together more features than we've seen in any other pre-workout. With so many competitors in the category, it is great to see Rise step outside of the box and do something so different.
Pre-order
Along with the long-awaited, complete unveiling of Hate, Rise Performance has made its promising new pre-workout available for pre-order to ship on Thursday the 11th of next month. Not too surprisingly with all of the ingredients it comes with, the product is quite pricey at $64.99 for a full 15 serving tub in a creative Wormwood flavor.