Iconic Popped Protein Crisps is a chip-style snack from the meal prep company Icon Meals, who is also the creator of the delicious Protein Popcorn. Being big fans of protein snacks as well as the brand Icon Meals mostly due to its Protein Popcorn, we decided to get our hands on its newest product for review.
The macros on Iconic Popped Protein Crisps aren't too bad with around the same kind of protein to calorie balance as a lot of protein bars. It comes with 20g of protein per bag primarily from plant-based pea isolate, 20 to 22g of carbohydrates with 7g or less of that sugar, 9g of fat, and a total calorie count between 240 and 250.
Review
The first thing we noticed as soon as we ate a handful of the Iconic Popped Protein Crisps is that their texture and consistency aren't always the same from chip to chip. Some are quite crunchy and take a bit of extra strength to bite through, although the majority are soft and fluffy, and are kind of like thick and semi-crispy rice crackers.
Despite the varying toughness of the Iconic Popped Protein Crisps, they are relatively easy to eat, and when you get a handful of truly soft ones, they're nicer to chew and swallow than most other protein chips. They don't leave any doughy pieces in your mouth; they just go down like regular rice crackers, making them very enjoyable to eat.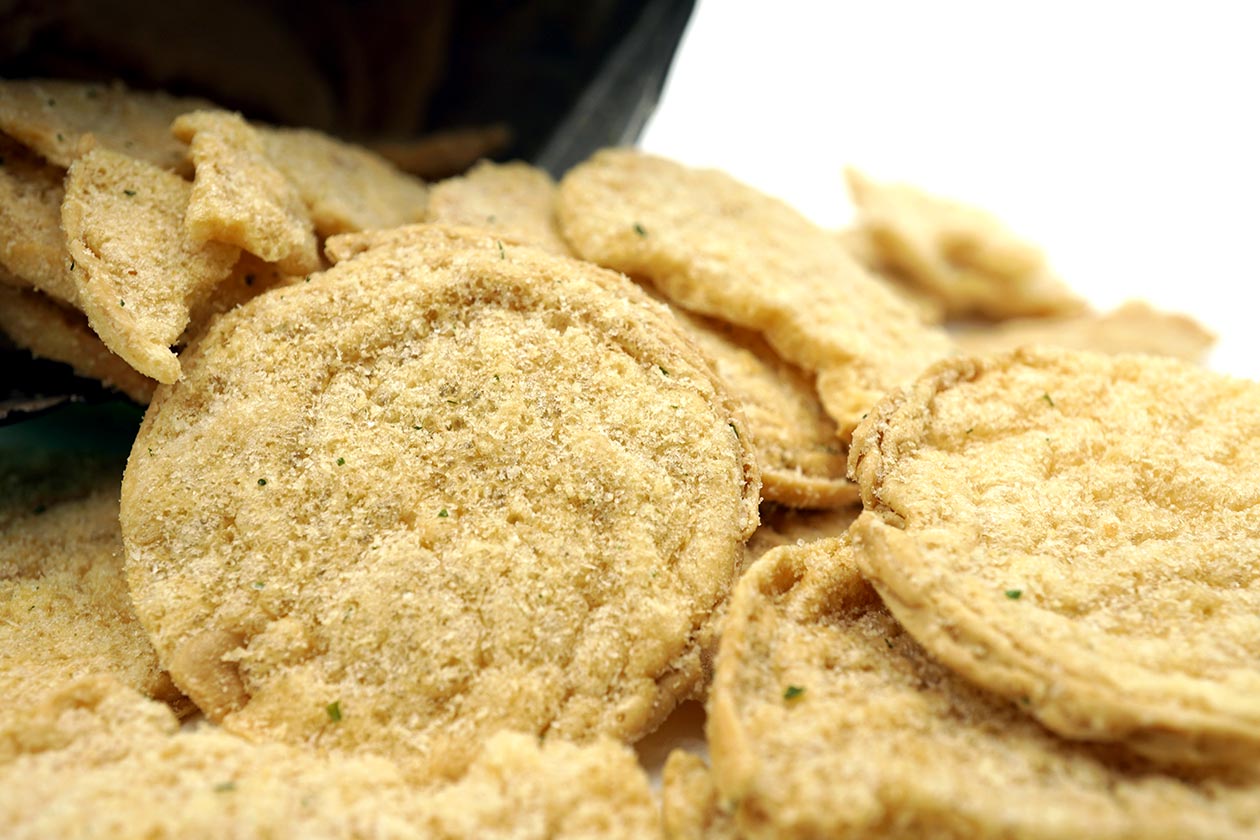 While the texture and consistency of the Iconic Popped Protein Crisps are on point, the taste isn't all that strong, but there is enough to make sure you know what flavor you're eating. Icon Meals' pea powered protein snack comes in three classic chip flavors with Sour Cream & Onion, BBQ, and Nacho Cheese.
As mentioned, all of the flavors are relatively light and they also don't hang around that long, which can make it difficult to tell what they taste like if you don't eat enough. The Sour Cream & Onion, however, is the standout for us as not only can you pick up on its flavor soon after it hits your mouth, but it stays in your mouth and lets you enjoy it more than the others.
Summary
Icon Meals' Iconic Popped Protein Crisps is certainly different from most of the protein chips we've tried, and it does not disappoint. The product's soft and puffy consistency makes it a breeze to eat and hard to stop eating, and even though its flavors don't pop as much as we'd like, they're kind of fitting for the rice cracker-like, protein-packed snack.