The Czech gaming supplement company MADMONQ has completely unveiled an all-new version of its one and only product, also called MADMONQ. The brand's revamped supplement may have a refreshed formula, but it still promises to deliver a well-rounded mix of benefits perfect for anyone looking to up their game.
MADMONQ's gaming product still comes in flavored tablet form that you can chew or suck to absorb all of its active ingredients. The formula behind the supplement intends to improve reaction time, stress control, and recovery; enhance energy and focus; as well as support memory and eye health.
You can see the full formula behind the reformulated MADMONQ in the facts panel below, which is only slightly different from the original. The updated product features all of the same main ingredients as its predecessor but with small changes in the dosing plus the addition of three new features.
The ingredients MADMONQ has carried over to its new version include tyrosine, theanine, acetyl-l-carnitine, ginseng, bacopa, rhodiola, blueberry extract, and caffeine which is now at 155mg. The additions to the gaming supplement are 300mg of schisandra, a light 50mg of choline, and 50mg of the Spectra fruits and greens blend.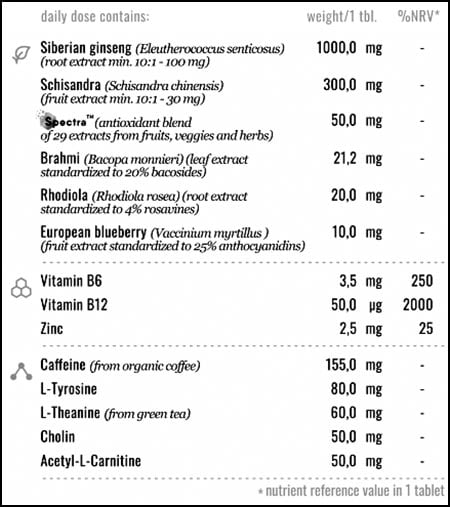 For anyone interested in trying MADMONQ's still one and only product, you can pick it up now from its website. The updated and gaming supplement comes with the same amount of tablets per bottle at 28. It will, however, cost you more than the original at €26.95 (29.88 USD) whereas the previous MADMONQ was €22.95.