Performax Labs has revealed the full formula behind its new and improved, pump and focus enhancing pre-workout VasoMax. The brand has been sharing details over the past few weeks, which has built plenty of excitement, especially since it will be the first product featuring the fully stable AlphaZone alpha-GPC.
As mentioned, Performax Labs' all-new VasoMax will be just like its predecessor and packed with ingredients to improve muscle pumps as well as enhance mental focus. The hybrid pre-workout is stimulant-free, so it can be stacked with other stimulant pre-workouts including the brand's number one rated HyperMax.
On the pump side of things, the exciting new VasoMax comes with a hefty 5g dose of GycerSize glycerol, 2.5g of taurine, and the branded ingredients Vaso6 and the S7 blend. Then for focus, there is 300mg of the innovative AlphaZone alpha-GPC, huperzine A, and 25mg of the branded KannaEase sceletium.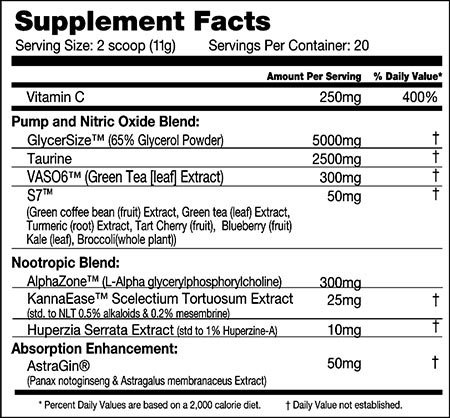 There is one other feature in the reformulated VasoMax, and that is AstraGin, which is in there to improve the absorption of everything. Altogether, the stimulant-free, hybrid supplement looks very promising, although that isn't all too surprising coming from the brand behind HyperMax.
Fans of Performax Labs as well as loaded pre-workouts, can expect to be able to get their hands on the improved VasoMax early next month. It is coming in two flavors with Orange Mango and Raspberry Lemonade, each packing 25 servings per tub. Its regular price will be $39.99, although the brand is going to have a solid introductory sale.