The German brand SINOB, which stands for "Sh*t Is Not Your Business", has released an all-new version of its sleep supplement, Melato9. Like most sleep support products, SINOB's 2.0 version of Melato9 is formulated to help you get to sleep and ensure it's quality sleep for optimal recovery.
If you're a fan of nighttime supplements and sleep aids, you will be quite familiar with most of the ingredients in the new Melato9. SINOB has brought together over ten different ingredients in its latest product, including common sleep features such as 5-HTP at 300mg per serving and melatonin at 1mg.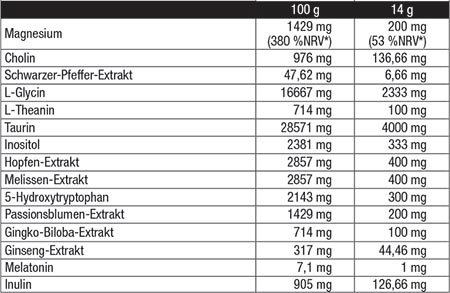 You can see the full list of ingredients in SINOB's Melato9 2.0 in the facts panel above. The label is in German, although most of the words are fairly recognizable. The formula includes choline, glycine, theanine, taurine, hops extract, ginseng, gingko, passionflower, and lemon balm.
Fans of SINOB that want to give its all-new sleep support supplement a try can grab it starting this week from the brand's website. The price of Melato9 directly from SINOB is a reasonable €29.90 (33.38 USD) for a full 21 serving tub, with just the one flavor available at the moment in Black Lime.