Primeval Labs has relaunched its powerful pre-workout Mega Pre Black today, and as previously confirmed, it features a slightly different formula. While there are some differences with ingredients and dosages compared to the original, the supplement still promises a broad mix of benefits with increased energy, focus, pumps, and performance.
Formula and changes
All of the heavier highlights from Primeval Labs' first Mega Pre Black have been carried over for the all-new version. That includes 6g of pure citrulline for pumps, 3.2g of the performance ingredient beta-alanine, 3g of betaine, and 2g of choline bitartrate for mental focus.
A few other features Primeval Labs has kept the same for its new Mega Pre Black are a solid 325mg of caffeine, 150mg of elevATP, 100mcg of tooth clubmoss, and 68mg of sustained-release Infinergy dicaffeine malate. The pre-workout also still comes with the stimulant Dynamine but at a lighter dose at 104mg of pure Dynamine instead of 130.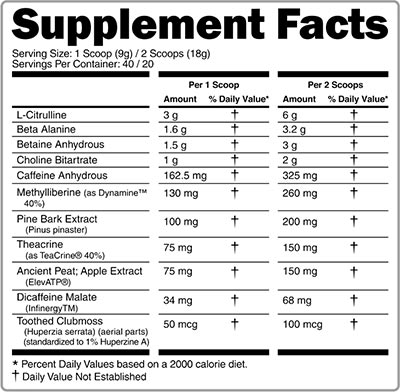 As for the few formula changes Primeval Labs has made, Mega Pre Black no longer features norvaline, n-methyltyramine, or hordenine. The brand has added two new ingredients in their place with pine bark extract at 200mg per maximum serving, and TeaCrine at 150mg, providing 60mg of pure TeaCrine.
Where to buy
You can purchase Primeval Labs' returning Mega Pre Black now from its website in five different flavors with Cranberry Grape, Gummy Bear, Rainbow Sherbet, Strawberry Pineapple, and Orangutan Juice. Each tub comes with 20 maximum servings, and for a limited time, you can use the coupon code "MPB30" and get the pre-workout for $31.49.