Redcon1, Bowmar and Nutrabio take our first three Brand Of The Year placings
Jan 13th, 2020
Today we're announcing the third, fourth, and fifth place getters of our Brand Of The Year Award for 2019. Last year was an incredibly competitive time with several new supplement companies coming on to the scene and a lot of up and coming brands breaking out with creative, innovative, and entertaining releases.
A few weeks ago, we named our five nominees for Brand Of The Year with Inspired, Bowmar Nutrition, Nutrabio, Ghost, and our Brand Of The Year for 2017 and 2018 in Redcon1. Below, as mentioned, are our third, fourth, and fifth positions for our 2019 award, with the final two to be announced this coming Wednesday.
5. Nutrabio
You truly can not look past what Nutrabio did in the first half of the year, which is the main reason it makes it on to our list of top five brands of 2019. Never before had we seen a company launch at least one new product every week for six months. While a lot of those products were relatively basic or a new flavor, it was impressive to watch the brand execute everything.
Nutrabio also included an entirely new and more complex type supplement in its six-month run with the nootropic enhanced amino Alpha EAA. Even after that first half of 2019, the brand kept its wheels turning with more releases, including new flavors, its convenient absorption enhancer Upsorb, and a collaboration with the retailer Natural Body.
4. Bowmar Nutrition
The brand from Josh and Sarah Bowmar in Bowmar Nutrition, almost felt like it popped up out of nowhere in 2019. After we were introduced to the supplement company at the Arnold Expo in Columbus, where it had one of the biggest queues at the event, it brought nothing but excitement every other week.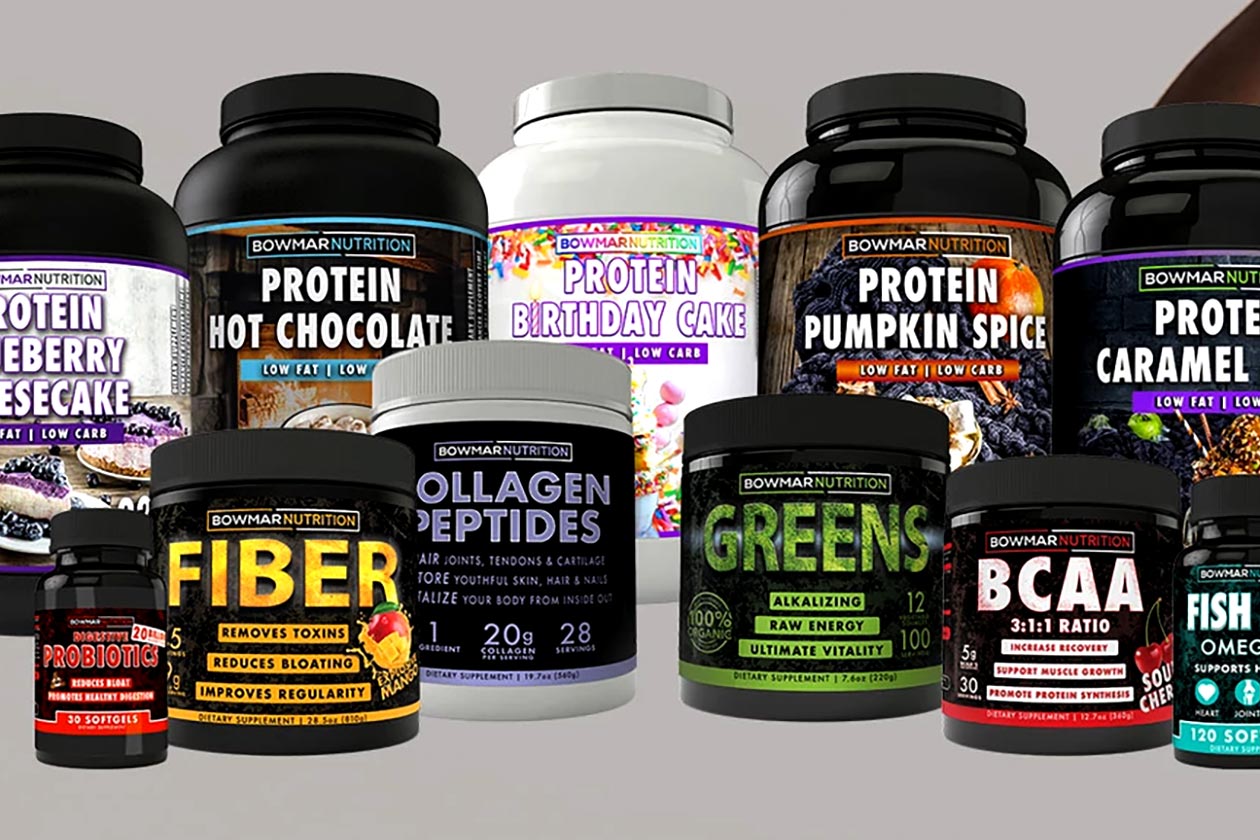 Bowmar Nutrition filled the year with a mountain of new products and flavors that our audience reacted and read about every time. Fans were treated to new flavors of the brand's regular and vegan protein, a reformulated amino with all nine EAAs, a protein-infused nut butter followed by a huge amount of additional flavors, and even a spreadable treat for dogs.
Bowmar Nutrition was simply non-stop in 2019, with a lot of its launches falling into those areas of intriguing, interesting, or exciting. A few of its more memorable moments include the launch of what we're certain is the first-ever pickle-flavored pre-workout, and more entries into the protein snack game with its lean and protein-packed puffs and popcorn.
3. Redcon1
Redcon1 continued its monumental rise in 2019 with almost as much excitement as 2017 and 2018. We didn't see quite as many entirely new supplements as we had in previous years, although the brand made up for all of that with what felt like a new flavor of Total War every month as well as new additions to MRE Lite, the MRE Bar, and B.A.R.
As mentioned, we did get a few entirely new products from Redcon1 last year, including the cereal piece protein bar B.A.R. (Breakfast At the Ready). The brand also dropped its first-ever plant-based, vegan-friendly protein in Green Beret, the muscle builder 11 Bravo, and the meal replacement Ration Pack, which was unveiled but didn't arrive until this year.
Redcon1 definitely kept things interesting for fans and followers with a lot of excitement outside of the product side of things. The brand expanded into new retailers and regions, and we certainly can't forget, it launched its own gym. The facility opened in October and in true Redcon1 style it has everything you need and more, and is referred to as the South East Mecca.