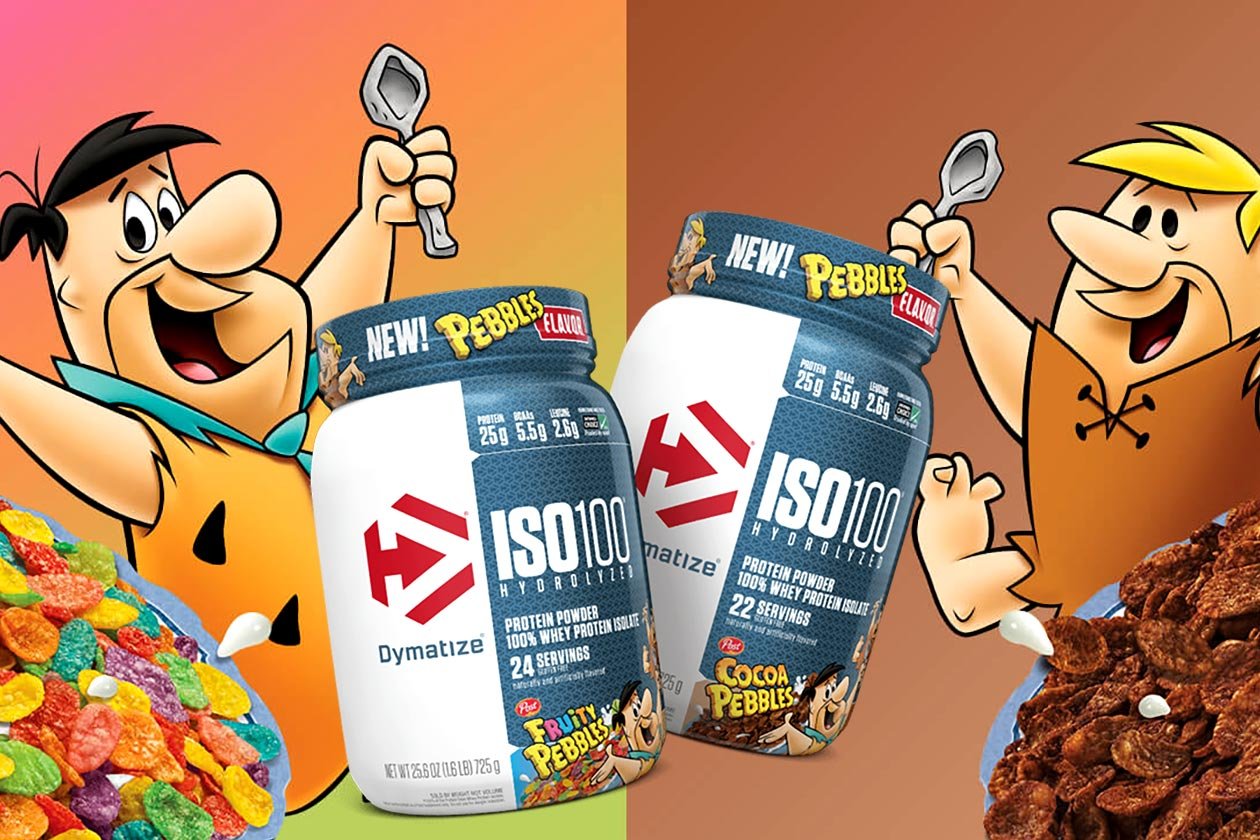 We recently set some time aside for a question and answer session with Dymatize's Director Of Sales, Ben Benedict, to talk about its recently released Fruity and Cocoa Pebbles ISO100s. The products are the first authentic cereal collaborations in the industry, and with so much excitement around them, we thought we'd reach out for the backstory.
Dymatize's Ben Benedict answered several questions about how the collaboration with Post Holdings and its cereal brand Pebbles came about, and how the ISO100 flavors were created. You can see the short interview below where Benedict also makes mention of other collaborations that are in the works but are for much further down the road.
The Fruity and Cocoa Pebbles ISO100s have become the most popular flavor launches in quite some time. How did the collaboration come about with Dymatize and Post Holdings?
I wish I could say it was my great idea, but it had been something that was discussed and asked for the last few years. The sales and marketing team had multiple discussions about licensing cereal flavors, and our VP of Marketing, Annie Seal, started the conversations with Post and Warner Brothers mid last year. After we got the green light, I feel like it happened so quickly, but we, as an organization, tried to keep it off the radar for months.
After you got the green light, did you spend a lot of time creating the flavors and did Post have much input in the process?
Yes, our R&D worked very closely on flavoring with Post Holdings, and we were heavily involved in sampling and comparing the shake while eating Fruity and Cocoa Pebbles Cereal. I think all parties involved knew that we needed the flavors to be spot on for such iconic flavors/brands. We are confident anyone who tries it will agree and feel the nostalgia when they drink this.
Did you ever consider putting inclusions in the powder as other brands have with things like chocolate chips and marshmallows?
I know it was discussed, but even without inclusions, people might assume because it is a cereal flavor, there is added sugar or more carbohydrates. We wanted to make sure Fruity and Cocoa Pebbles macros were in line with the other ISO100 flavors. We did include a water-soluble edible glitter used specifically in food products. This was used to enhance the Fruity Pebbles' appearance to look similar to the cereal or the milk after you eat it.
Post Holdings does make several other cereals, even a few more under the Pebbles brand. With the huge success of the Fruity and Cocoa Pebbles ISO100s, are there more collaborations planned with Post?
Our organization has definitely discussed additional Post Cereal opportunities, and I think the industry does want more authentic collaborations like the Fruity and Cocoa Pebbles. I can't guarantee we will push out more cereal flavors, but whatever we do put out, we want to make sure it stays in line with our other exceptional flavors and adds to the customer experience with Dymatize as a brand. I will tell you we are working on some other very exciting collaborations in the future, but our team is very early in the process.