The Feed Bar is Nutrabolics' competitor in the saturated protein bar category that is only made with real food ingredients such as oats, whey isolate, almond butter, and honey. We reviewed the product around the Olympia last year and found it to be quite an enjoyable snack and very different compared to the other real food protein bars out there.
Nutrabolics has now announced a spin-off of its Feed Bar with the Feed Soft Baked Bar, still packing a good amount of protein and flavor, and made with only whole foods ingredients. The biggest difference with the Feed Soft Baked Bar is its build and base ingredient, as it is no longer a traditional lengthy bar, nor does it feature a chocolate base or oat-filled body.
Nutrition profile
The new Feed Soft Baked Bar is a shorter, smoother protein snack with a nut butter base, similar to the original Outright Protein Bar and RYSE's Loaded Bar. The product packs a good amount of protein at 20g per bar alongside 23 to 26g of carbohydrates with 9 to 13g of that sugar and 2g fiber, 10 to 12g of fat, and a calorie count of 240 or 250.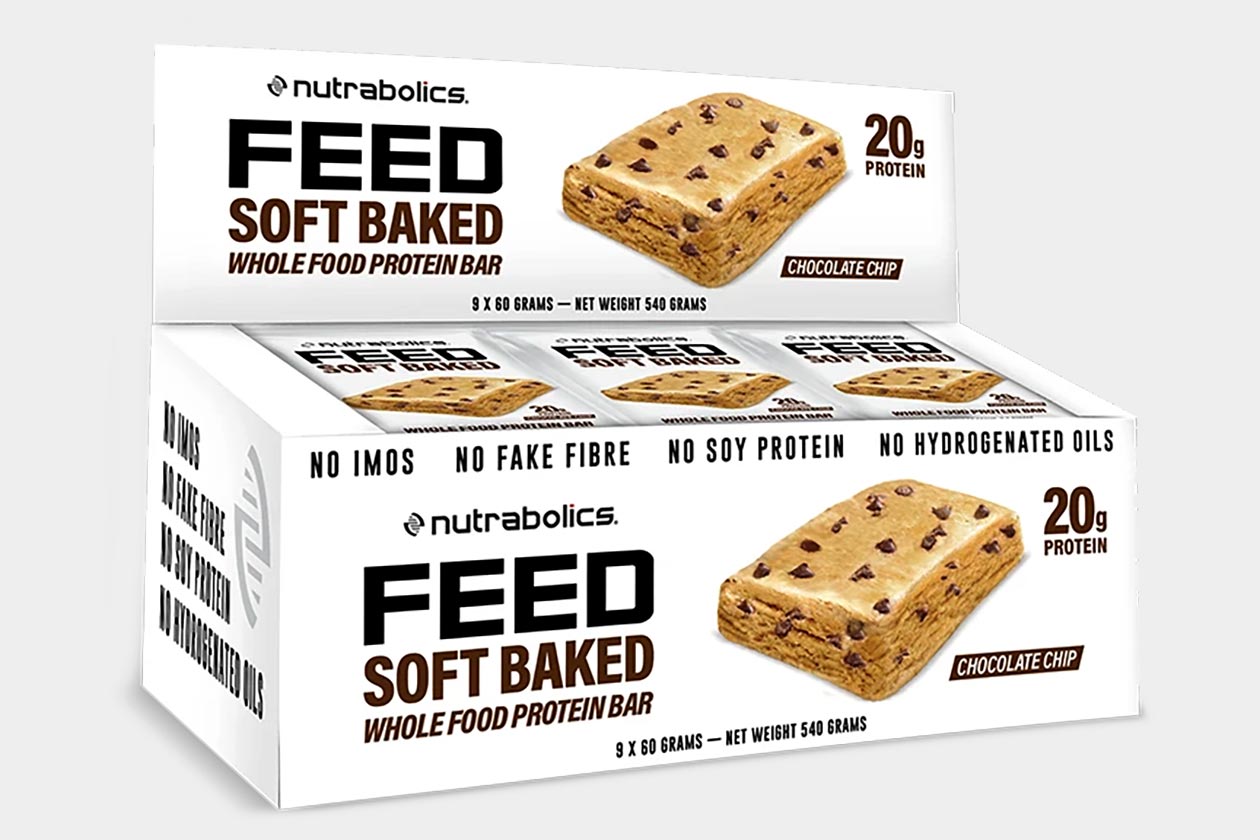 Flavors and ingredients
We've listed ranges of macros above as the nutrition numbers vary slightly across each of the Feed Soft Baked Bar's three flavors. The whole food-based protein snack's options are Banana Nut Bread made with added walnuts, Peanut Butter Fudge, and Chocolate Chip Cookie featuring delicious, semi-sweet chocolate chips throughout the bar.
As mentioned, Nutrabolics' Feed Soft Baked Bar is made with only real food ingredients, much like the original Feed Bar, which it shares a lot of its features with. The main ingredients used to make the product that are also consistent across all three flavors are peanuts, all-natural nut butter, whey isolate for that extra protein, honey, and the sugar substitute allulose.
Pre-order for August
Nutrabolics isn't expecting to have stock of its Feed Soft Baked Bar until the 1st of August, which is roughly three months away. Despite that being quite a while from now, the brand is taking pre-orders for the product through its website. Fans of Nutrabolics can secure themselves boxes of the bar $21.58, although you do only get nine bars per box instead of the usual 12.