We recently posted about the upcoming gaming supplement brand XP Sports from Iovate, the company behind big names like Hydroxycut, Six Star, and Muscletech. There are three products coming from XP Sports sometime this summer in Boost, Gummies, and Zero-Lag, with full formula details now available for the flavored powder supplement, Boost.
XP Sports Boost is the leader of the lot, or at least the most familiar type of gaming product, featuring a combination of ingredients for energy, focus, alertness, reaction, and eye health, in a flavored powder. It packs a handful of premium branded ingredients with 1.6g of NooLVL, 100mg of the focus enhancing NeuroFactor, and 30mg of FloraGlo for eye health.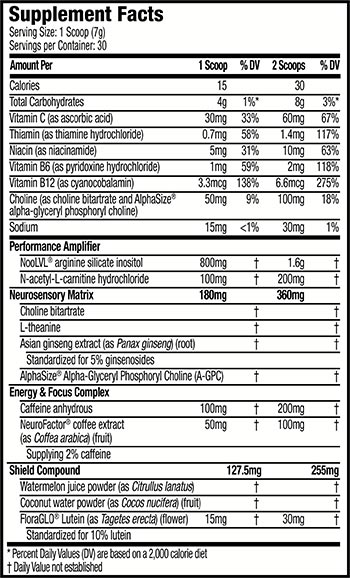 While those three branded ingredients are the highlights XP Sports is promoting for Boost; there is actually quite a bit more in the supplement. Alongside NooLVL, NeuroFactor, and FloraGlo, are 200mg of n-acetyl-l-carnitine, a 300mg focus blend of choline bitartrate, theanine, ginseng, and AlphaSize alpha-GPC, and finally, a reasonable 100mg of caffeine for energy.
As mentioned, XP Sports Boost aims to enhance energy, focus, and alertness as well as support eye health, to all in turn, improve and elevate your gaming. Each tub of the product comes with the 30 servings, but if you want those dosages such as 1.6g of NooLVL and 100mg of NeuroFactor, you'll need to throw back two servings, so you'll only get 15 from a tub.
Once again, the only indication on the launch of Boost, as well as XP Sports' other gaming supplements Zero-Lag and the edible Gummies, is that they're coming sometime this summer. Regarding flavor options for Boost, two tastes have been confirmed for the supplement so far in Rainbow Candy and Sour Lime Pucker Face.