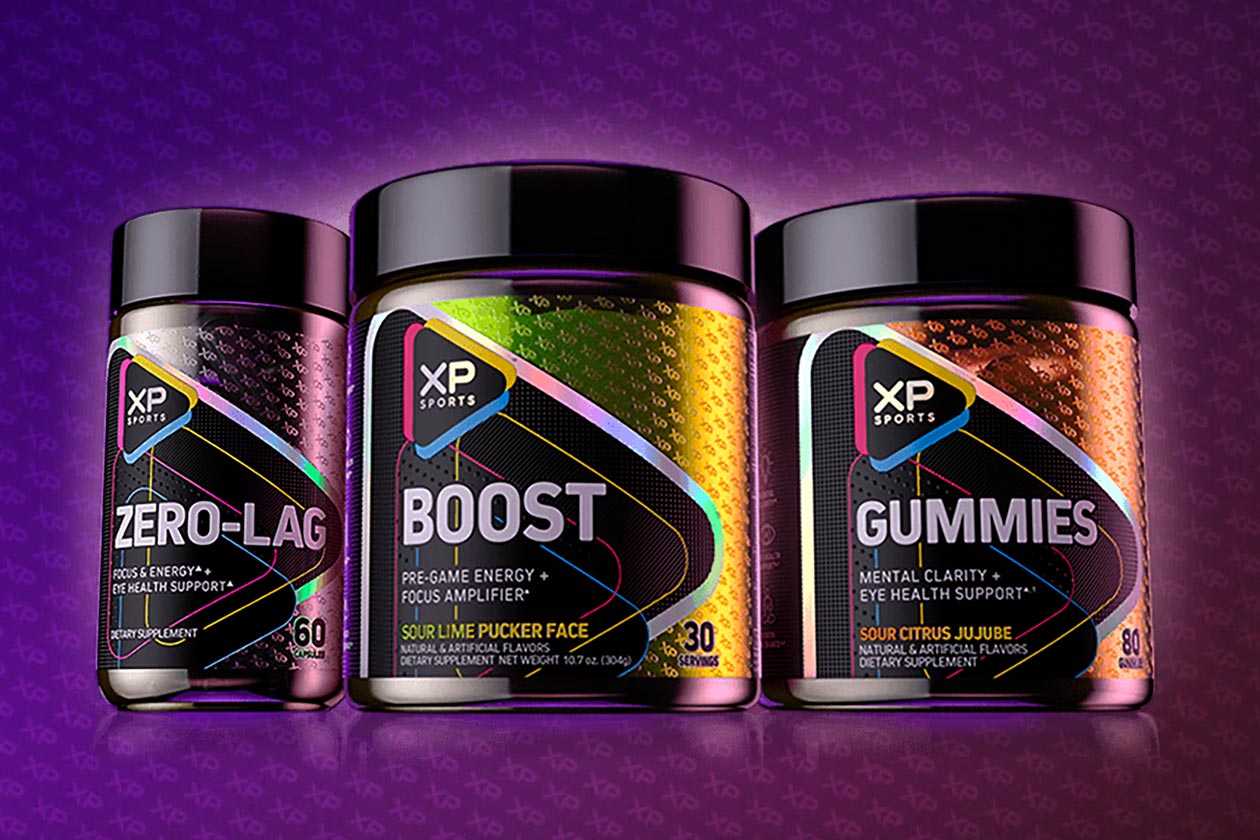 XP Sports is an upcoming gaming brand from Iovate, the company behind the well-established supplement brands Hydroxycut, Six Star, and of course, Muscletech. XP Sports is due to launch sometime this summer; however, unlike a lot of others in the space, or even brands that have competitors in the fast-growing category, XP Sports isn't limiting itself to just one product.
The eye-catching new brand is looking to launch within the next few months with three different supplements, each providing its own combination of benefits geared towards gamers. There is the flavored product XP Sports Boost, promising increased energy, alertness, and mental focus, similar to a lot of gaming-marketed supplements. Highlights from its formula include 100mg of NeuroFactor for focus, 1.6g of NooLVL, and 30mg of FloraGlo lutein.
The other two items filling out the XP Sports lineup are Gummies and Zero-Lag. The former is a product formulated to provide mental clarity and support eye health, but instead of coming in traditional capsules or powder, it packs its benefits into Sour Citrus-flavored gummies. Ingredients wise that one comes with 200mg of SerinAid ashwagandha, 167mg of AlphaSize, and the same 30mg dosage of FloraGlo.
As for XP Sports Zero-Lag, that one is a capsule supplement put together for energy, focus, and eye health. Its list of benefits is somewhat of a mix of Boost and Gummies, with its formula having parts of each of them as well. Like Boost, Zero-Lag has 1.6g of NooLVL, and like Gummies, it has 200mg of SerinAid ashwagandha. It also includes that consistent 30mg of FloraGlo, making the ingredient something the entire lineup shares.
Once again, XP Sports and its three gaming products Boost, Gummies, and Zero-Lag, are all due to launch sometime within the next few months. We're not entirely sure where they will be available, but it certainly looks like an interesting lineup, especially with that more diverse approach. We are hoping to see their full facts panels soon, as the ingredients mentioned are only highlights, with each supplement having a lot more to it than that.