Guerrilla Chemist unveils his long-awaited Chemix sleep supplement
Aug 3rd, 2020
The long-awaited sleep supplement from our 2019 Newcomer Of The Year winner, the Guerrilla Chemist's Chemix, has been completely unveiled. The product was first talked about ten months ago near the end of last year and has since had several more mentions. Like most sleep support supplements, the simply named 'Chemix Sleep', aims to ensure you get deep quality sleep to maximize recovery.
We've always been fans of nighttime products like this one, purely because they tend to deliver the most noticeable recovery, leading to more energy, less soreness, and better performance the following day. Another promise Chemix Sleep is making is no hangover effect, where you wake up feeling groggy despite getting a good night's sleep, which is something we've experienced in a lot of sleep supplements.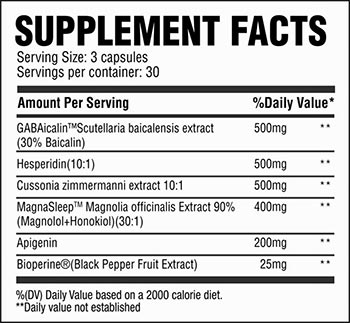 The combination of ingredients behind the Guerrilla Chemist's Chemix Sleep can be seen above, and in typical Guerrilla Chemist style, the formula is far from your average competitor. A full serving comes with half a gram each of GABAicalin skullcap, hesperidin, and cussonia zimmermannii extract, 400mg of MagnaSleep magnolia, 200mg of apigenin, and lastly, BioPerine black pepper to support absorption.
The Guerrilla Chemist and Chemix are looking to launch Chemix Sleep in just a couple of days on Wednesday. The place to purchase the supplement when it goes live is the brand's own online store at chemixlifestyle.com. We're not sure about the price of the product, although direct, Chemix's more complex supplements are $50 to $60, so we suspect the sleep formula for fall into that range.