The still very new company VNDL Project who hit the market late last year with the one product in the pre-workout Vandal, has now introduced its second supplement. Like Vandal, the second category the brand has decided to tackle is highly competitive and popular with the weight loss formula Vibes, and again, like Vandal, Vibes comes packed with a wide variety of ingredients.
Altogether, VNDL Project's Vibes has been formulated for a well-rounded fat burning experience providing clean and lasting energy, improved focus and mood, enhanced thermogenesis, and support for overall weight loss. As mentioned, the brand has brought together a wide variety of 11 different ingredients, three of those being premium, branded ingredients, including Sensoril ashwagandha, Caspimax, and Paradoxine.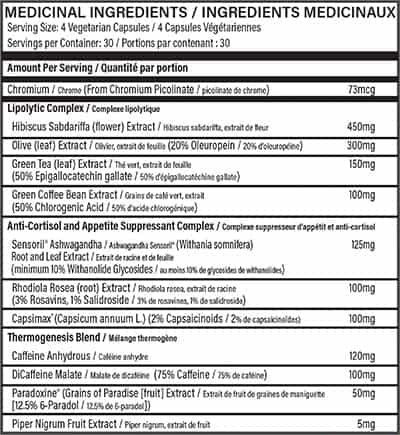 You can get a full look at the formula behind Vibes in the image above, where you'll notice VNDL Project keeps everything open and honest with a fully transparent facts panel. Some of its highlights include 125mg of Sensoril ashwagandha, 300mg of olive leaf, 100mg of Capsimax, and a solid 220mg of caffeine per serving, 120mg from regular caffeine anhydrous and the rest from sustained di-caffeine malate.
The price on VNDL Project's first-ever fat burner and second-ever supplement is a little less than its pre-workout Vandal, with a full 30 serving bottle of Vibes costing $49.99. There isn't unfortunately, any kind of introductory deal on the product; however, if your order ends up more than $99, you will score free shipping, which is an amount a bottle each of Vandal and Vibes will get you.