In just under two weeks, the all-new supplement company Sinner, is going to tackle the Australian market with its first-ever product, a stimulant-powered pre-workout. While pre-workout is the most common type of supplement newcomers launch with, Sinner's competitor is far from your average entry, featuring a relatively loaded list of ingredients.
Sinner is shooting for an all-around experience in its stimulant pre-workout, built to increase energy, enhance mental focus, support performance, and improve pumps. The product packs a few ingredients to back up each effect, and the formula is fully transparent, so you know exactly how much of each ingredient you get per serving.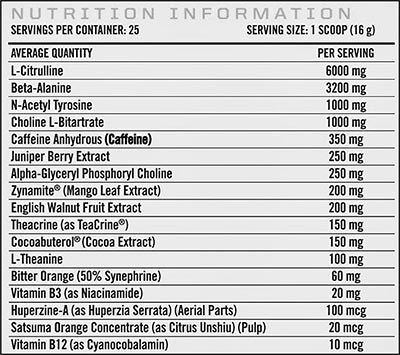 Sinner's pre-workout features a reasonable 16g serving size, including highlights such as 6g of pure citrulline for pumps, a gram of choline bitartrate for focus, and a full 3.2g of beta-alanine for performance. There are, of course, several stimulants in the product to power you through your workout with a solid 350mg of caffeine, TeaCrine at 150mg, and 200mg of the increasingly popular Zynamite.
As previously confirmed, Sinner plans on launching its pre-workout with quite an extensive menu consisting of four flavors: Raspberry Wrath, Guilty Grape, Wicked Orange, and Lime Crime. The supplement will be on shelves in a 25 serving tub size, with no price confirmed yet, although that will come when the product becomes available on October 14th.