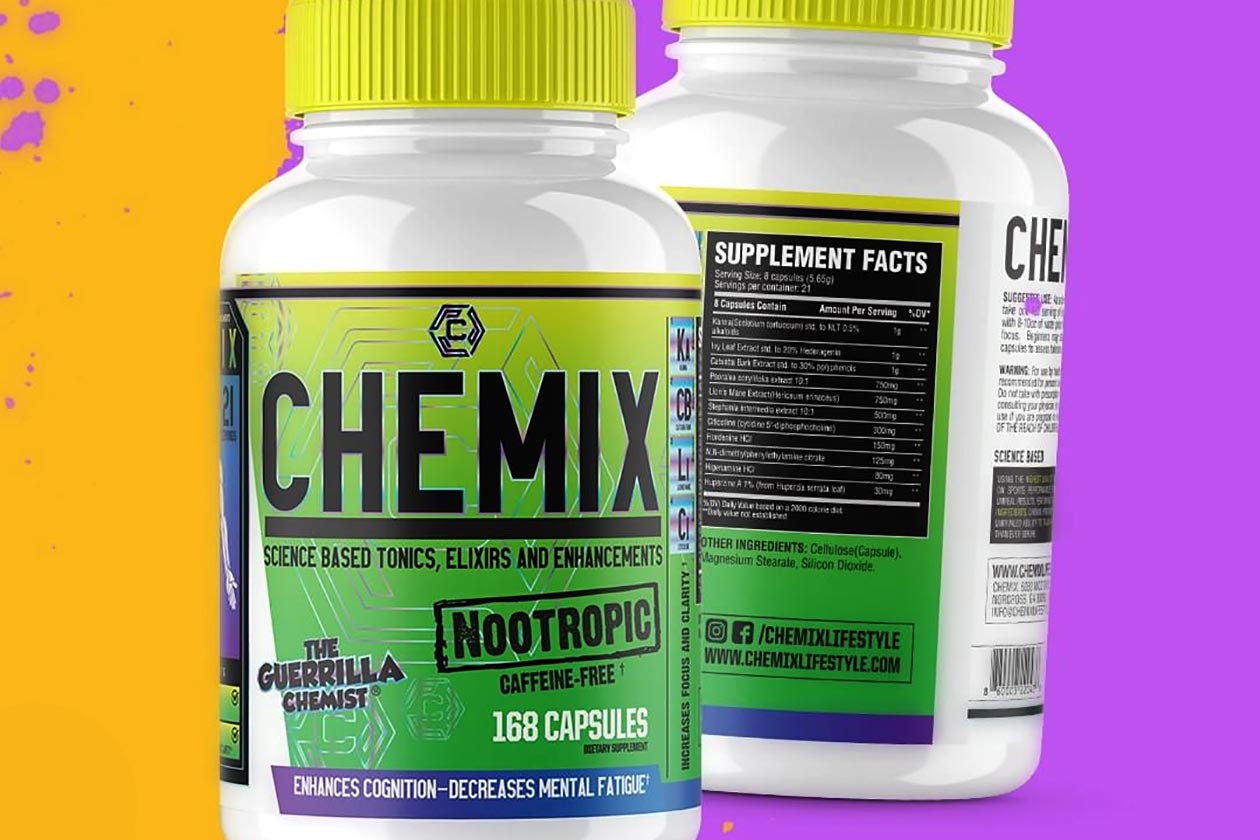 A nootropic supplement is something we've been waiting for from the Guerrilla Chemist's brand Chemix, for quite some time. The Guerrilla Chemist first mentioned he was working on a product for the category well over a year ago, even confirming several of its ingredients. The full formula behind the long-awaited supplement has finally been revealed, and it is as loaded as expected.
Chemix Nootropic comes with 11 main ingredients, combining for a sizeable 5.6g of active ingredients, all packed into an eight capsule serving size. The product features a lot of reliable ingredients to enhance focus, cognition, and mental clarity. Most interestingly, it doesn't have any caffeine, giving you the freedom to take it any time of day and stack it with stimulant supplements.
You can see the complete combination in Chemix Nootropic in its fully transparent facts panel directly below, including strong highlights such as a gram of kanna, 125mg eria jarensis, 750mg of lion's mane, and 300mg of citicoline. There are plenty of less common focus ingredients in there as well, something we see lot of from the Guerrilla Chemist, such as catuaba bark and ivy leaf extract.
As mentioned, the goal of Chemix Nootropic is like any nootropic-based product, and that is to increase and support focus, cognition, and a number of other effects to provide a comprehensive and productive experience. The supplement's benefits are ideal for anyone looking to elevate their focus and concentration, whether it's for gaming, study, day-to-day, or general work.
Chemix Nootropic will finally become available in about one and a half weeks for Black Friday. We don't yet know its price, but the brand does sit more on the premium side, so we imagine it'll be up around $50 to $60. It is also worth noting you don't get the usual 30 servings in this one; instead, Chemix has gone for slightly less at 21 full servings, similar to some of Glaxon's supplements.