Nov 19th, 2020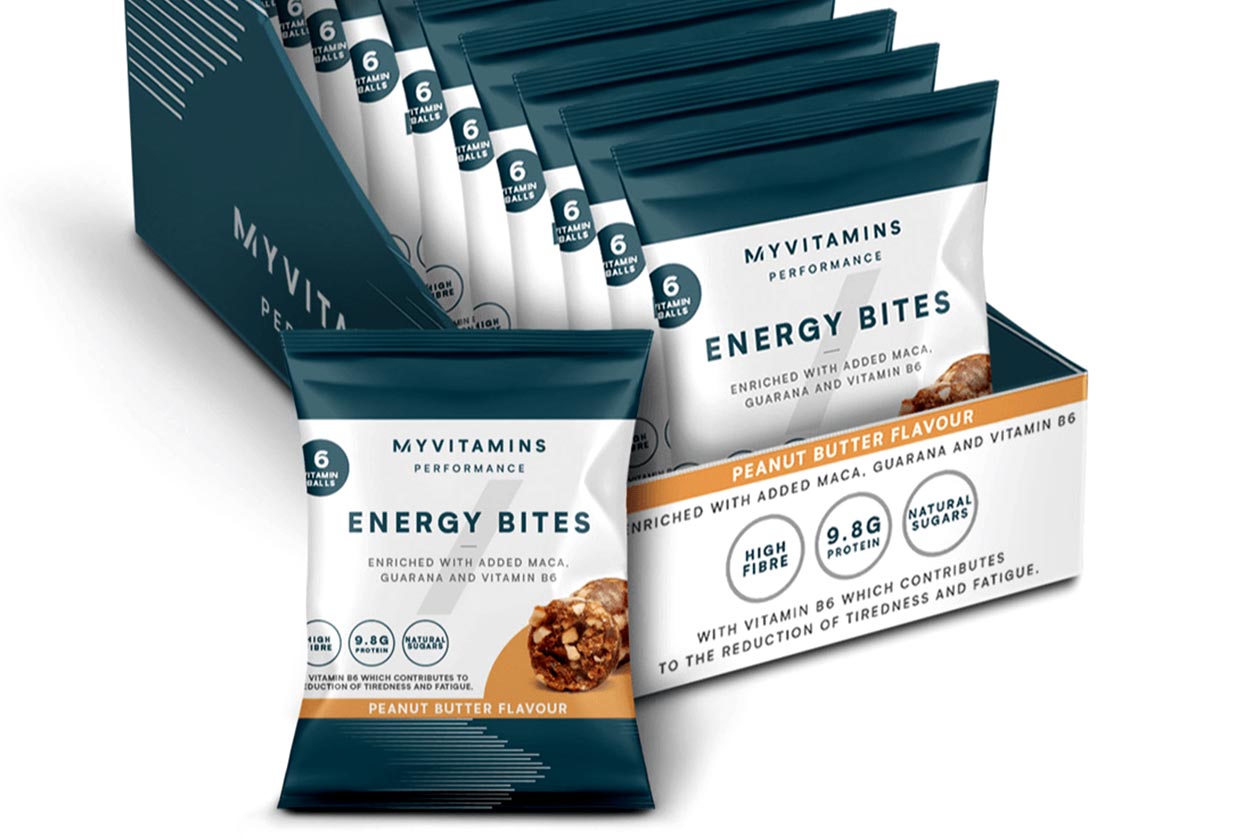 Myprotein continues its recent run of fun and exciting products today, with something entirely. The UK brand's latest effort is actually not a single product, but a series of functional foods, all in the same format but each with its own purpose. They come under Myprotein's Myvitamins line and are all bags of six, high-protein snack balls with Beauty Bites, Bio Bites, and Energy Bites.
Beauty Bites
The thing that primarily separates each of Myprotein's bites products is highlighted in their names. Beauty Bites is a ball snack made with almonds and dates, and infused with vitamins, hyaluronic acid, and a solid 5g of collagen per bag to support healthy hair, skin, and nails. The macros on this one are 6.4g of protein, 4.1g of fat, 21g of carbohydrates, and 153 calories in a Salted Caramel flavor.
Bio Bites
Next is Myprotein's Bio Bites, made with a date and cashew base, and packed full of probiotics providing one billion CFUs to help with digestion and support overall gut health. The nutrition profile for these is a little more calorie-dense with 5.6g of protein, 20g of carbs, 7.6g of fat, and 178 calories in a Cocoa and Orange flavor.
Energy Bites
Lastly are the Myprotein Peanut Butter-flavored Energy Bites, which have the leanest nutrition balance of the lot. They're made with dates and peanuts, aim to fight fatigue with vitamin b6, and have two other ingredients in the mix in maca and guarana. The Energy Bites' macros are, as mentioned, a leaner balance, with 9.8g of protein, 15g of carbs, 9.1g of fat, and a total of 190 calories.
Where to buy
Myprotein's Beauty, Bio, and Energy Bites are quite creative additions to its already massive lineup, putting a true functional spin on the classic nut-based ball snack. You can grab any of the products through the international brand's primary website at myprotein.com, in each of those flavors highlighted above. They're all priced the same at £24.99 (33.04 USD) for a box of 12 bags.