Rule One drops a gaming supplement for energy, focus, clarity and more
Nov 23rd, 2020
While the superfood, immune health, and plant protein categories have grown a lot over the past year, the world of gaming supplements has also seen plenty of newcomers. Many sports nutrition brands have jumped into the space to join some of the already established competitors such as Outbreak, G Fuel, and Sneak, with Rule One also now getting in on the action.
Rule One, known for its strong selection of protein powders, is introducing Player1 this week, a gaming-marketed supplement formulated to support energy, mental focus, clarity, reaction-time, and eye health. The benefits are, of course, ideal for gamers, with Rule One rolling all of them up into a tasty powder product available in Rainbow Respawn and Gummy Grenade flavors.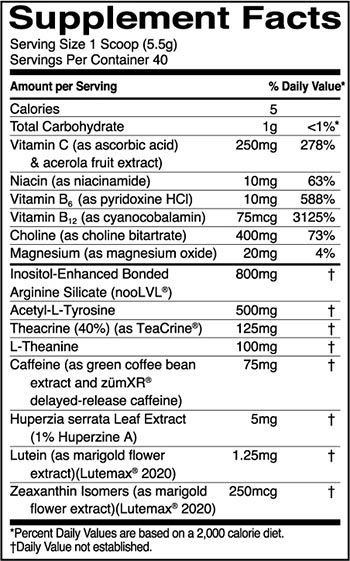 You can see the formula for Player1 in the facts panel above, including 1.6g of the gaming-specific NooLVL in its maximum two-scoop serving, as well as other premium ingredients such as TeaCrine and Lutemax 2020. Also in the mix is a gram of acetyl-l-tyrosine to support the focus, huperzine, theanine, and a 150mg blend of natural caffeine and ZumXR delayed-release caffeine.
The regular website price of Rule One's Player1 is $29.99 for a 40 serving tub, although to get the dosages mentioned, you'll need to throw back its maximum of two servings, which means you only get 20 from a tub. Either way, that price is quite reasonable, although for Black Friday, the brand is discounting everything by 50%, so until Cyber Monday, Player1 is only $15.