Peak Performance Labs has revealed the full formula behind the new and improved version of its stimulant-free pump-powering pre-workout Nuclear Pump. The brand confirmed the coming of the product earlier in the month and mentioned two major changes to the supplement with added ProEpicate epicatechin at 300mg per serving and hesperidin methyl chalcone.
You can see the complete combination of ingredients and dosages Peak Performance Labs has brought together for the new Nuclear Pump in the facts panel directly below. There are a few more changes outside of just the two additions mentioned, although it has held on to a lot of the original's highlights, such as that hefty 8g of pure citrulline and 3g of GlycerSize glycerol.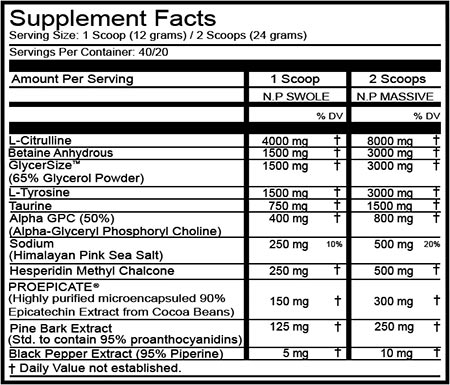 Fans of Peak Performance Labs and Nuclear Pump will notice creatine monohydrate is no longer in there or norvaline and Nitrosigine. However, pine bark and betaine have been added at 250mg and 3g, respectively. The brand has also switched to regular alpha-GPC instead of AlphaSize alpha-GPC and increased the amount per maximum serving from 600mg to 800mg.
Peak Performance Labs reformulated Nuclear Pump looks just as fun and intense as the original, with a fresh new formula that, like the first version, aims to enhance muscle pumps and support mental focus. It'll be available for pre-order soon through the brand's website at $64.99 (51.21 USD) with 20% fewer servings than its predecessor at 20 per tub and in an Orange Lollipop flavor.