Reputable UK brand HR Labs has made a few changes to its stimulant-powered fat burner Fever40, which it initially brought to market early last year, and it already features a solid formula. The up-and-coming company packs the supplement's three-capsule serving with strong highlights such as 300mg of caffeine for energy, 50mg of ProGBB, and 200mg each of Cocoabuterol and Paradoxine grains of paradise.
HR Labs has made four changes in total to its weight loss product Fever40, which on paper look like they'll deliver that improved experience and results. Firstly, the brand has removed theanine and tyrosine, but in their place, it's added the premium and proven fat burning ingredient InnoSlim at a solid 500mg per serving. Lastly, HR Labs has increased the caffeine from 300mg to a marginally more intense 350mg.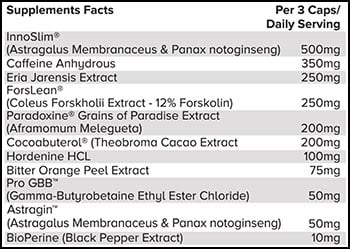 The new, improved, and more energized Fever40 is currently expected to arrive with HR Labs around Tuesday of next week and go online shortly after. Fans of the original fat burner will also be pleased to know that each bottle will still be retailing for the same price as the original at £39.99 ($55.10 USD), even with all the formula improvements and the same amount of servings at 25 per bottle.