GFY was Glaxon's original higher-stimulant pre-workout that had a unique feature, where you could only purchase it from physical retailers, not online, including the brand's website. This week GFY has returned with a refreshed formula and slightly different hierarchy, as it now comes under the brand's flagship pre-workout Specimen and goes by the name Specimen GFY Edition.
Like the original GFY, Glaxon's revamped Specimen GFY still aims to deliver an intense pre-workout experience, bringing together ingredients for performance and endurance, but mostly energy and focus. The brand continues to refer to the supplement as its most intense stimulant pre-workout, despite the YoYo version of Specimen packing quite the punch of intense energy and focus.
You can see the full list of ingredients in Specimen GFY in the facts panel above, where it very obviously puts a lot of focus on the stimulant side of things. It includes the likes of hordenine, theobromine, a strong 400mg of caffeine, SantEnergy branded yerba santa, halostachine, and a potent pair of 3mg of alpha yohimbine and 2mg of yohimbine.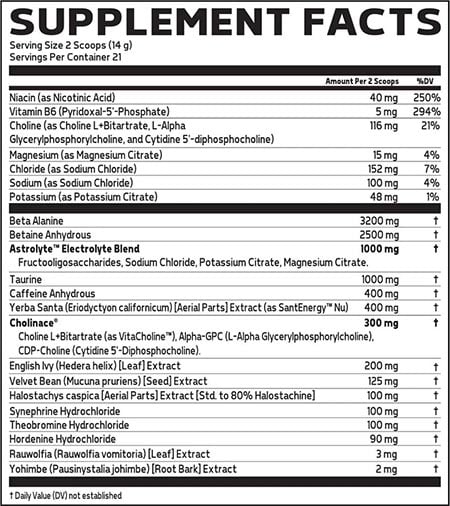 As mentioned earlier, Glaxon does have a few other ingredients in Specimen GFY that aren't for stimulatory benefits, such as beta-alanine to support performance, betaine, taurine, and a blend of electrolytes for hydration. The product still obviously leans more to a heavy stimulant type of experience, which fans of the original will remember and will appreciate the brand keeping the same.
Glaxon does list the Specimen GFY Edition in its online store, although it does say it's only for reference purposes, and to get your hands on the pre-workout, you are going to need to visit one of its retail partners. The regular price of the supplement is set around the same as Specimen and Specimen YoYo at $44.99 for a tub of 21 full servings in two flavors, Knockout Punch and Blue Lightning.