New companies are coming into the supplement industry on what works out to be a daily basis, with many of those coming from outside of the highly competitive US market. One of the latest newcomers to the sports nutrition world is "More Formula", a UK-based brand that is looking to make its debut in the coming weeks with a pre-workout called "Bangarang".
The rather unique name of More Formula's first supplement is paired with a unique and eye-catching label design, which you can get a look at for yourself in the image above. The brand has indeed taken a colorful approach that will be hard to miss on shelves, although the effort doesn't end on the outside, as Bangarang is backed by a solid blend of ingredients and dosages.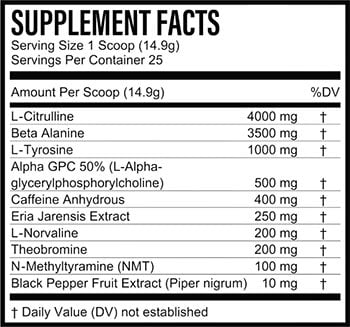 More Formula's pre-workout Bangarang is built for energy, focus, pumps, and performance, with several ingredients powering those benefits, as shown in its facts panel. Some of its key highlights include 4g of pure citrulline to fuel the pumps, 3.5g of beta-alanine for performance, and for energy and focus, there is alpha-GPC, tyrosine, eria jarensis, and a potent 400mg of caffeine.
Once again, More Formula and Bangarang are looking to enter the supplement industry in the coming weeks, with the brand's online store at moreformula.com set to be the place to get your hands on the pre-workout. The product will have 25 servings per tub, and that is full servings, not half, and there will be one flavor to choose from in a traditional Blue Raspberry.