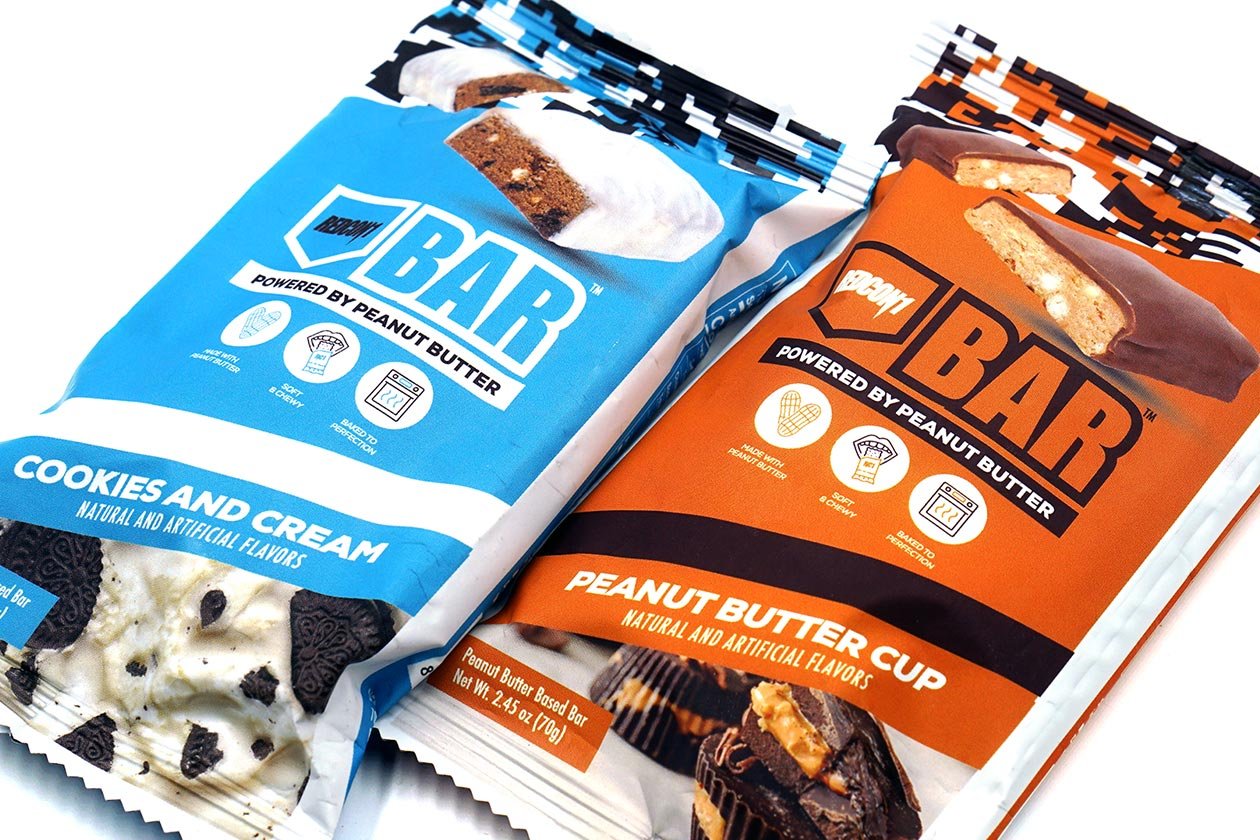 The Redcon1 BAR is the two-time Brand Of The Year winner's peanut butter-based protein snack, although, unlike some of its competitors, you get a full 20g of protein per bar. The product is made with a few other clean ingredients, including honey and whey isolate for the high protein, with 13 to 16g of fat, 30 to 33g of carbohydrates, 18 to 19g of that sugar, and 300 to 310 calories.
Redcon1 launched BAR in two traditional flavors with Cookies and Cream and Peanut Butter Cup, with the Peanut Butter Cup being the slightly more calorie-dense one of the two at that 310 calories per bar. We got our hands on both BAR flavors for today's review to see how well the product measures up to other peanut butter-based protein bars and Redcon1's other snacks.
Review
When it comes to reviewing how well a protein bar tastes, we look for two types of things, taste and texture. With other peanut butter-based snacks like the Outright Protein Bar, Jacked Factory's Authentic Bar, and O15's Big-O, texture has been the area they shine the most. That is not quite the case in the Redcon1 Bar, as it is without that consistency where your teeth sink right into it.
The texture of the Redcon1 BAR isn't tough or anything; it's just not as soft and smooth as we had hoped. It's still better than the chewy, doughy snacks from a few years ago; however, there is a highlight to the product that saves it all and is difficult to ignore. In both flavors of BAR, there is incredible sweetness and memorable flavor that more than makes up for the texture.
The Cookies and Cream Redcon1 BAR masks the peanut butter base completely, tasting only sweet white chocolate from the outer layer and light chocolate, crumbly cookie flavor on the inside. The Peanut Butter Cup Redcon1 BAR is much the same but a little denser and it has a more rich and realistic milk chocolate coating with a full peanut butter flavor really coming through on its name.
Summary
While we were hoping for that soft and smooth consistency we've come to expect from peanut butter-based protein bars, Redcon1's BAR does not disappoint. The actual taste and sweetness of the product wins out and is truly addictive, making it incredibly easy to throw down more than one BAR, although with a lot more calories than the usual protein bar, it is worth keeping count.