Following its preview from the start of the month, Darkside has shared the formula behind its first-ever nootropic supplement, The Force, which is rolling out to stores in the US and Australia in the coming weeks and months. Like most nootropic products, The Force is designed to increase and enhance mental focus, and it is caffeinated, but only lightly.
Each serving of Darkside's all-new The Force packs 100mg each of caffeine anhydrous and slower release di-caffeine malate, although that's far from all that's in there. Alongside the caffeine, you get several other focus ingredients with 1.5g of tyrosine, 150mg of mucuna pruriens, 30mg of hordenine, half a gram of lion's mane, and 200mg of alpha-GPC.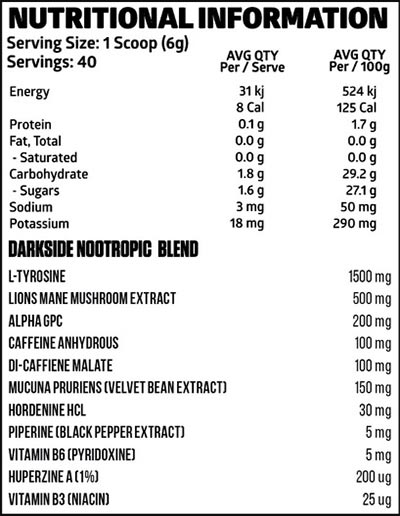 Darkside has really brought together many of the reliable and commonly used focus compounds for The Force, which should make for a nice experience when rolled together. The supplement also has several quite a few servings per tub at 40, so you'll get a lot of use out of it, whether it be for studying, gaming, general work, and everything in between.
Once again, Darkside is looking to launch The Force in stores over the next few weeks, both in the highly competitive US market and down under in Australia. The product does come in flavored powder form with two fruit-themed creations to choose from in Peach Rings and Guava Melon.