It wasn't that long ago that Jeff Long's supplement brand Like A Pro previewed its first-ever entry in the nootropic category with Beyond Zoned, although it didn't reveal any of its ingredients or dosages. The brand has now followed that up with full details on another focus product by a different name, introducing Like A Pro's Cerebral Elite Focus.
The supplement is due to launch later this season, and like most competitors in the busy nootropic category, it is designed to enhance energy, cognition, focus, and alertness. Like A Pro has formulated it strong and intense enough for use before a workout as well as more general things like working, studying, and day-to-day productivity.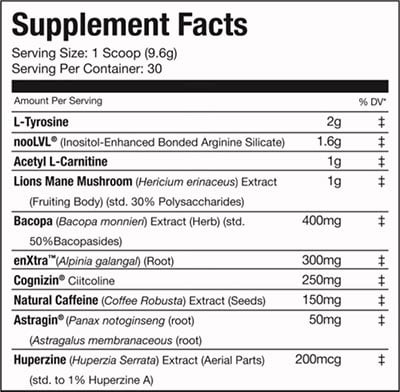 As mentioned, Like A Pro has completely unveiled Cerebral Elite Focus, showing off its entire formula, which you can see for yourself in the image above. Like the majority of its products, the brand has brought together a reliable variety of ingredients and dosages for Cerebral Elite Focus, including a 2g of tyrosine, a gram of lion's mane, and another gram of acetyl-l-carnitine.
The Like A Pro nootropic supplement is caffeinated with a moderate 150mg of natural caffeine per serving, and it has a handful of premium branded ingredients. On top of those features mentioned, Cerebral Elite Focus has the gaming ingredient NooLVL at a full 1.6g, 250mg of Cognizin citicoline, the increasingly popular EnXtra, and AstraGin for better absorption.
On paper, Like A Pro's Cerebral Elite Focus looks like a solid product that should have no trouble coming through on its promised benefits of enhanced energy, focus, cognition, and alertness. Once again, the brand is planning to release its first-ever dedicated focus supplement sometime this season, so expect to see it within the next few months.