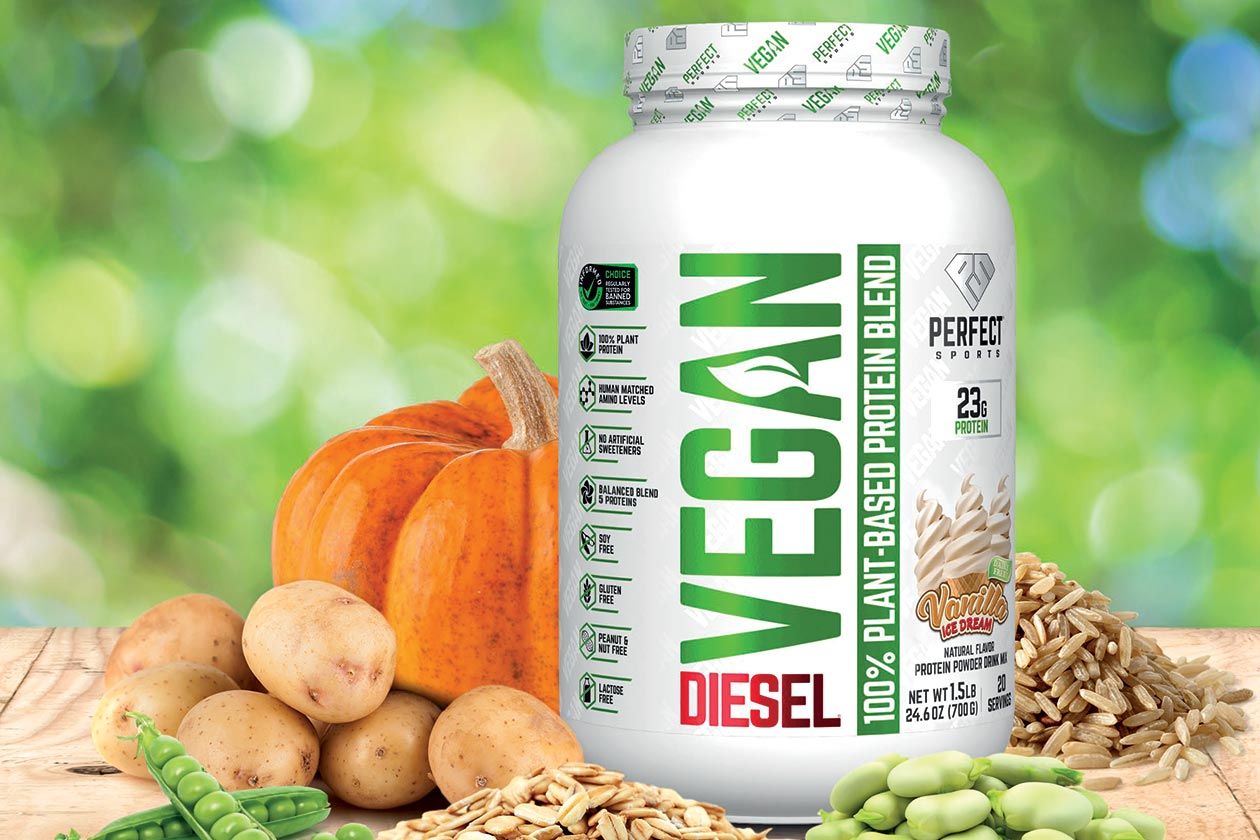 Diesel is one of the popular protein powders from the Canadian supplement company Perfect Sports, featuring a premium, New Zealand Whey Isolate-based formula, providing around 26g of protein per serving. The brand is now getting ready to release a spin-off of Diesel that stays in the saturated category, although it falls under the more specialized area of plant-based products.
Diesel Vegan is a vegan-friendly protein powder from Perfect Sports, providing 23g of protein per serving from a blend of fava bean, pea, brown rice, pumpkin seed, and branded Solathin potato protein. Solathin is quite an important inclusion in the supplement, as it is backed by research showing its ability to curb appetite, reduce hunger, and in turn, help support weight loss.
Perfect Sports carefully selected the sources of protein in Diesel Vegan based on their amino profiles, ensuring it has respectable amounts of naturally occurring EAAs, including 2g of leucine per serving. The other macros making up the plant-based protein powder's nutrition profile are 3.5g each of fat and carbohydrates, zero sugar, 1.5g of fiber, and a lean calorie count of 130.
One of the most important areas of a vegan-friendly protein is taste and texture, something Perfect Sports promises is on point in Diesel Vegan and without any artificial sweeteners. The brand has put together three flavors for the product, two traditional in Chocolate Ice Dream and Vanilla Ice Cream, and the other one is something a bit more fruity and refreshing with Very Berry Splash.
Fans of Perfect Sports can look forward to seeing the plant-based version of Diesel on shelves soon with two tub sizes to choose from in a full 700g bottle packing 20 servings and a half size 350g trial tub with ten servings.