Obsessed Nutrition has put together a special edition version of its stimulant pre-workout Relentless and has launched it as an exclusive to the reliable retailer Natural Body. The supplement comes in a fresh new flavor with the cocktail-themed Piña Colada, featuring a white-themed label design compared to Relentless' traditional black, and it has a different formula.
The special edition Relentless is similar in ingredients and dosages to Obsessed Nutrition's regular Relentless. The biggest difference between the two on paper is the newer pre-workout has less for pumps and performance, and more for intense stimulation. They definitely share a good amount of ingredients, although it's really the ones that don't crossover that separate them.
Obsessed Nutrition's Natural Body exclusive Relentless does not include beta-alanine, has 40% less citrulline at 6g in a full serving compared to the original, and 20% less betaine at a still solid 4g. Those are the key decreases with other features being carried over at the same amounts or thereabouts with 800mg of alpha-GPC, 2g each of tyrosine and taurine, and 750mg of DMAE.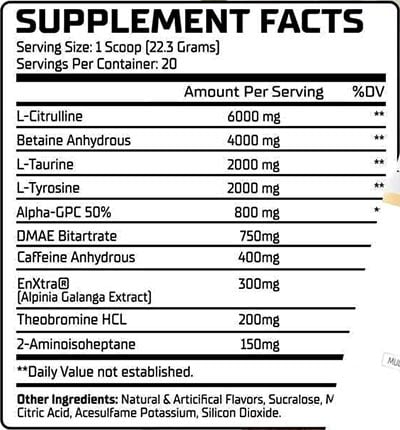 Where Obsessed Nutrition's new Relentless starts separating is in the stimulant department as it has added DMHA to the supplement at 150mg per maximum serving. That comes in combination with a similar profile to what you get in the regular Relentless for energy and focus with 200mg of theobromine, 300mg of EnXtra, and reliable and strong 400mg of caffeine to drive home the energy.
We've added the facts panel for Obsessed Nutrition's special edition, DMHA-infused Relentless above, and as mentioned, it is available now exclusively through the retailer Natural Body. The pre-workout is priced exactly the same as the original at $44.99 for a tub of 20 full servings, or if you grab two from Natural Body, it'll bring the price down to a slightly nicer $39.99 each.