Switch Nutrition has expanded its original relaxation supplement Adrenal Switch in many different ways over the years since its release, which came all the way back in early 2017. The product features a reliable blend of ingredients to help you relax and unwind, and it's not just for nighttime; you can also put it to use post-workout and after a long day of work.
There are now several different flavors of Adrenal Switch, including tasty creations like Chocolate, Mango Nectar, and Salted Caramel, and even a more cost-effective value size with twice the servings. This month, Switch Nutrition has released another option for Adrenal Switch, designed more for those of you that use it before bed for its relaxation benefits.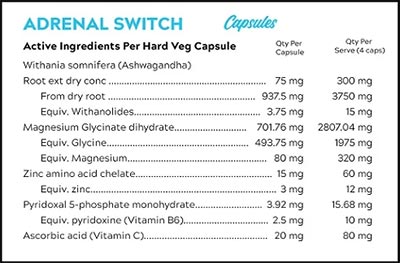 Switch Nutrition has put together a capsule version of Adrenal Switch, although the formula has undergone several changes. The main ingredient in the pill spin-off is ashwagandha, at 300mg per serving, alongside higher dosages of magnesium, vitamin B6, zinc, and almost twice the glycine. The brand has removed a couple of features with theanine and leucine no longer in the mix.
Despite Switch Nutrition's Adrenal Switch capsules being sort of a simpler alternative, as mentioned, geared more towards that nighttime, relaxation, sleep experience, the supplement has the same regular price as the original. Directly through the Australian brand's website, you'll pay $59.95 for a full-size, 30 serving bottle of the newest Adrenal Switch product.