Earlier in the week, we posted everything you need to know about Cellucor's all-new testosterone booster in the value-focused P6 Alpha, priced at just $24.99 a bottle. In that post, we noted the brand has launched two new P6 supplements, with the other one being P6 Alpha Advanced, which we're going over here today to highlight all of its benefits and differences.
Cellucor's P6 Alpha is, as mentioned, incredibly cost-effective sitting at $24.99 for a full-size bottle of 30 servings. P6 Alpha Advanced is, as its name suggests, a more advanced testosterone booster that costs twice as much at $49.99. The reason for the higher price is P6 Alpha Advanced has everything that you get in P6 Alpha, plus a few ingredients to additionally support performance.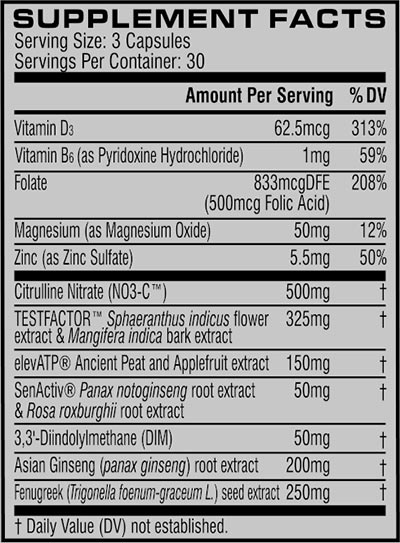 P6 Alpha Advanced has NO3-C citrulline nitrate, DIM, TestFactor, and fenugreek, just like P6 Alpha and at all of the same dosages. Alongside those four features, Cellucor has thrown in 200mg of ginseng, a full 150mg of the premium strength supporting elevATP, and a solid 50mg of another patented and proven ingredient in the endurance-enhancing Senactiv.
Once again, in P6 Alpha Advanced, fans of Cellucor basically get all of the same testosterone boosting benefits as P6 Alpha to power muscle strength and size, plus support for performance, endurance, and strength thanks to elevATP and Senactiv. P6 Alpha's more advanced version is available now through cellucor.com at $49.99 for a bottle of 30 servings to get you through a full month.