Level Up is HR Labs' intra-workout, and like the rest of its lineup, it features an advanced approach with a truly complex and comprehensive combination of ingredients and dosages. For 2022 the reputable UK brand is planning to relaunch the product as Level Up V2, and while the focus is still very much on helping you power through your workout, the formula has undergone several changes.
HR Labs has passed on the facts panel behind Level Up V2, which we've added in the image below with a few things similar and some things not. Sustamine glutamine, Cocomineral coconut water, and the performance-enhancing PeakO2 are still in the mix at the same dose of a gram each per serving. Premium Aquamin minerals are in there as well to support and improve hydration and endurance.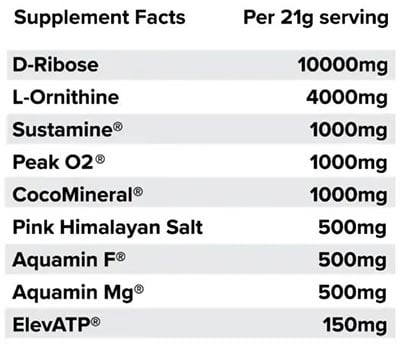 Some of the more important changes are that citrulline is no longer in the supplement, elevATP has been added at a full 150mg for performance, and the simple sugar or carbohydrate d-ribose has been doubled to 10g per serving. On the topic of carbs, fans will notice Cluster Dextrin is not in Level Up V2, although in saying that, since HR Labs debuted Level Up, it has released the almost standalone Cluster Dextrin product Carb Up.
HR Labs has removed a few features for Level Up V2 but essentially squeezed in a wider variety of ingredients to power performance and endurance. We're not sure how many servings per tub you'll get with the revamped intra-workout, and something like that does matter, as if we're looking at 40 or 20, it leaves room to have more than one serving and still have enough for the month.
HR Labs is planning to launch Level Up V2 soon, and while the original came in a variety of flavors, including Grape Bubblicious and Life Is Peachy, so far, the brand has only said the sequel would be available in a convenient and stackable Unflavored option.