While Klout already has a stimulant pre-workout in its arsenal with the recently released Karma, the growing brand is following in the footsteps of a few others and coming out with a second stimulant pre-workout. That upcoming supplement is named Mamba, and it will be setting itself apart from Karma by featuring a more hardcore formula backed by an intense blend of stimulants.
Klout's upcoming Mamba will still feature ingredients for benefits outside of energy and focus, including 3.2g of beta-alanine to support performance and endurance, and 1.5g of arginine. The rest of its combination is for that promise of a more hardcore experience, and as you can see in the fully transparent facts panel below, it has the variety of ingredients to get the job done.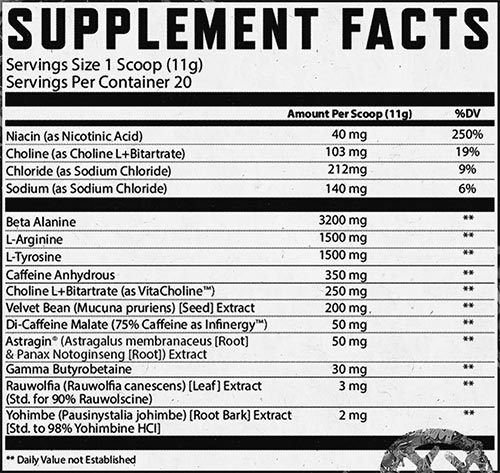 Driving the energy and focus in each serving of Klout's Mamba pre-workout is 200mg of velvet bean, 250mg of VitaCholine branded choline bitartrate, 1.5g of tyrosine, and a combined 400mg of two sources of caffeine. To further intensify the experience, the brand has thrown in 3mg of alpha yohimbine and 2mg of yohimbine, and interestingly 30mg of the thermogenic enhancer GBB.
On paper, Mamba should definitely have no trouble providing the more intense and hardcore performance Klout is promising, at least compared to its regular stimulant-powered supplement Karma. The brand is looking to launch Mamba somewhere around the middle of next month for the same price as Karma at $41.99, and in three flavor options; Nektur, Sourade, and Juicy Burst.