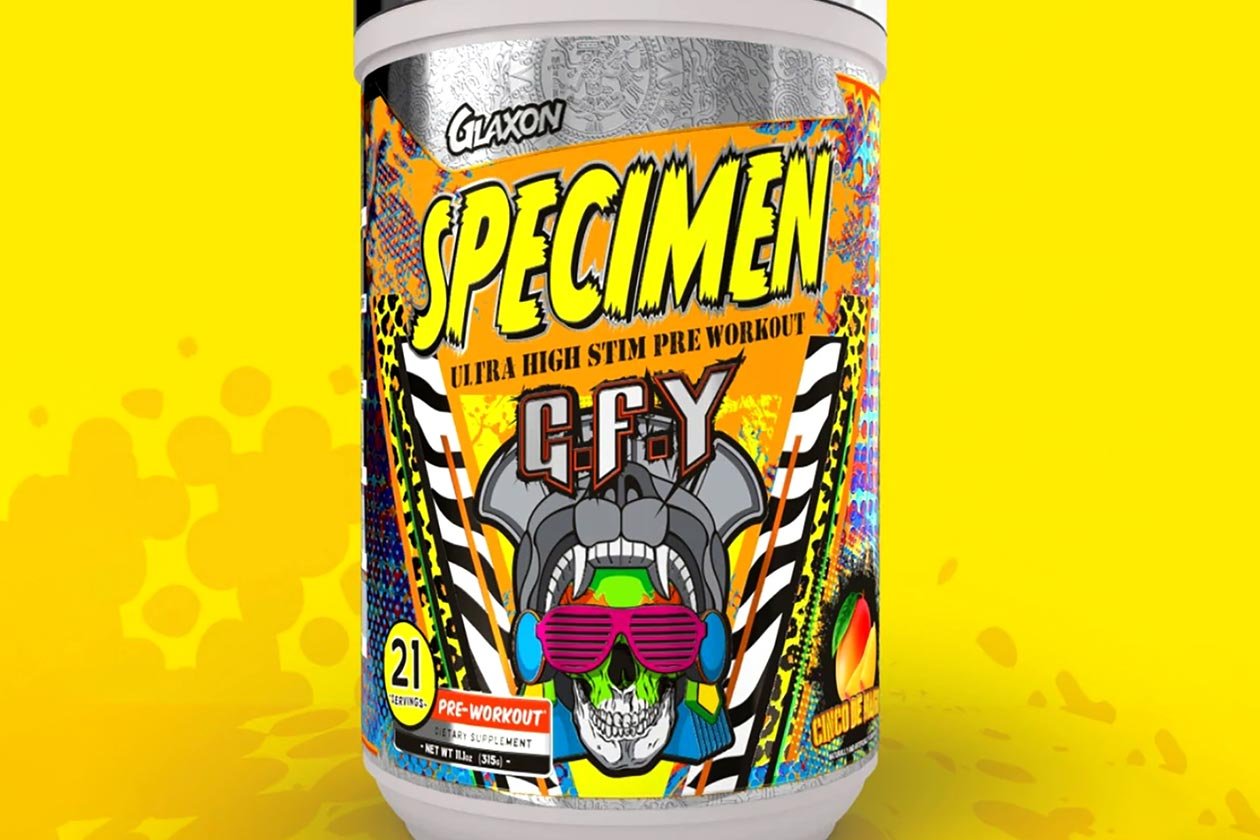 Specimen GFY isn't a version of Glaxon's reputable family of pre-workouts that you'll find in all of its retail partners or even in its own online store at glaxon.com. It is the brand's more intense, hard-hitting competitor for the saturated pre-workout category, and it's exclusive to brick and mortar retailers, some of which do have physical locations and websites stocking Specimen GFY.
Glaxon only just reformulated Specimen GFY around this time last year, referred to as Specimen GFY V2, with a similar intensity to the original, packing strong stimulants and a few ingredients for other core pre-workout benefits. For the third iteration of the award-winning brand's exclusive Specimen, a lot of the V2 formula has been carried over with a handful of notable changes.
Firstly, Glaxon has completely removed halostachine, hordenine, and synephrine for Specimen GFY V3, as well as dropped SantEnergy yerba santa, which was just included in the recently released Specimen Max at GNC. Everything else from the previous version of the supplement has been carried over, with the likes of a full 3.2g of beta-alanine to power performance and endurance, 200mg of English ivy, a high 400mg of caffeine, and the brand's almost signature yohimbine and alpha yohimbine combination.
Glaxon obviously hasn't just removed ingredients for Specimen GFY V3, it has added just as much back in, and almost all of those new additions are premium compounds. New to the hard-hitting pre-workout is 100mg of NeuroFactor to elevate mental focus, 250mg of RhodioPrime branded rhodiola, 30mg of GBB to enhance thermogenesis, and to enhance muscle pumps, 254mg of VasoDrive-AP.
Specimen GFY V3 certainly has some similarities to GFY V2, with some tweaks for better focus, pumps, and that intriguing thermogenic component, although overall, it still has that familiar GFY balance fans have come to enjoy. You can pre-order Specimen GFY V3 from the reliable retailer Ares Nutrition at $54.99 for a tub of 21 servings in Cinco De Mango and Homemade Lemonade.