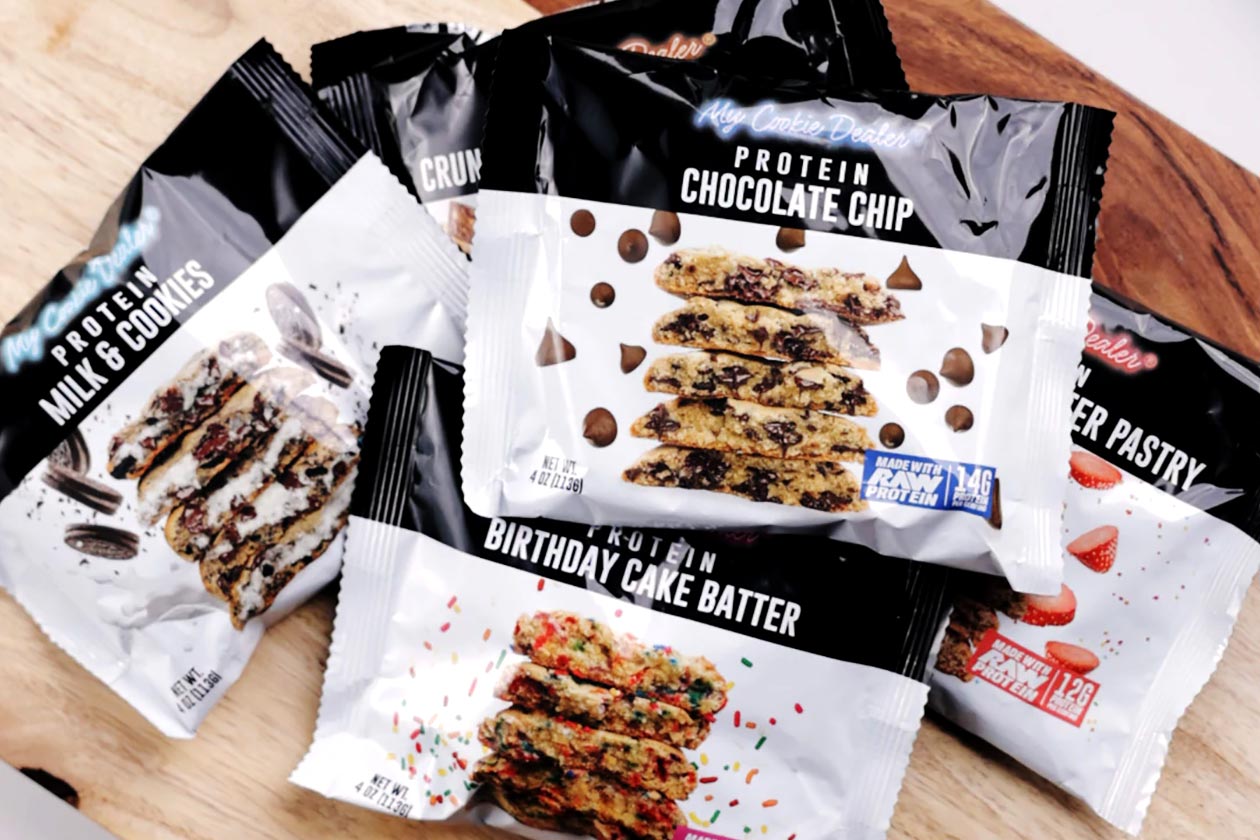 My Cookie Dealer and Raw Nutrition have launched their Protein Cookie collaboration through Raw's online store, and with it, as hoped, has come all of the finer details. While My Cookie Dealer is known for its sugar and calorie-loaded cookies, it has come out with a bunch of high-protein cookies this year, which is what Raw Nutrition has dropped on its website today, although these are smaller than the ones we've seen.
The My Cookie Dealer Protein Cookies, available from Raw Nutrition and made with the sports nutrition brand's protein powder, weigh in at 4oz a piece, so while they are smaller than My Cookie Dealer's previous Protein Cookies, they're still heavy. The protein you get in each cookie varies from flavor to flavor, with as low as 12 up to 17g, and to deliver the experience My Cookie Dealer is known for, they have plenty of sugar and calories.
Alongside that 12 to 17g of protein, the My Cookie Dealer and Raw Nutrition Protein Cookies come with 18 to 31g of fat, 64 to as much 92g of carbohydrates with 34 to 51g of that sugar, and mass gainer-like calorie counts of 450 to 650. With that much sugar and carbohydrates, you can almost guarantee these taste amazing, and with that protein-to-calorie ratio, this isn't the snack for you if you're after something lean and light.
As previously confirmed, there are five flavors in Raw Nutrition's collaboration with My Cookie Dealer, and they're all mouthwatering. They each have their own individual filling, such as gooey strawberry in the sprinkled-covered Strawberry Toaster Pastry. The other four options for the undoubtedly delicious Protein Cookies are Birthday Cake Batter, Milk & Cookies, Peanut Butter Cup, and a classic Chocolate Chip.
You can purchase the My Cookie Dealer Protein Cookies straight from Raw Nutrition's online store, and currently, they only come in boxes of five, with one of each flavor. The price of that box is $21.99, working out to $4.39 a cookie, a lot more than your typical protein cookie, although again, pictures do make these cookies look like they're worth every cent.