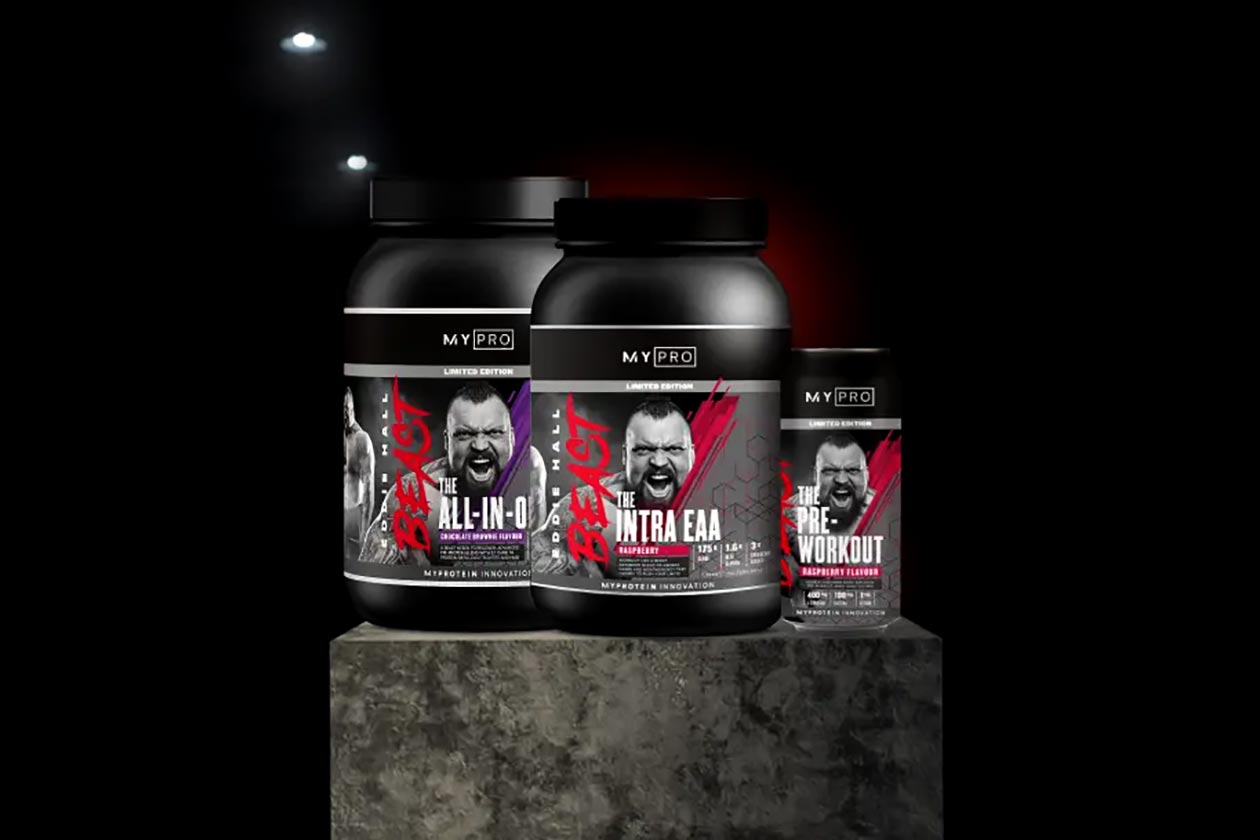 Myprotein has expanded its special edition series of supplements put together in partnership with the World's Strongest Man winner, Eddie "The Beast" Hall. For those that missed in, the brand released two products in the series near the end of last year, with a packed-out version of the brand's Pro Series, The Pre-Workout, and an equally loaded post-workout in The All-In-One.
Myprotein has introduced two completely new collaboration supplements with Eddie Hall this week, both continuing that more packed-out premium approach in a special edition, The In:EAA, and a beverage version of The Pre-Workout.
The In:EAA
Eddie Hall's The In:EAA is actually not too different from the original, featuring the same amount EAAs to support muscle recovery, at a combined 7g per serving. It also has the same amount of coconut water, premium Aquamin minerals, and absorption enhancers AstraGin and BioPerine, with the key difference being Eddie Hall's The In:EAA has more carbohydrates at 51g instead of 33, from a blend of Dextrose and Carb10.
The Pre-Workout Can
Myprotein and Eddie Hall's The Pre-Workout beverage is slightly more interesting as it comes in the always fun and enjoyable carbonated energy drink format, although it has a premium pre-workout formula. While you don't get all the ingredients and dosages of the original powder version of Eddie Hall's The Pre-Workout, the on-the-go alternative is not bad for a carbonated beverage.
Every can of Myprotein's Eddie Hall The Pre-Workout energy drink comes with 4.5g of citrulline malate for pumps, 1.1g of betaine, a light half a gram of tyrosine for focus, a full 50mg dose of the premium performance ingredient Senactiv, B vitamins, 200mg of choline, and 180mg of natural caffeine. Again, the formula is far from the powder version, but for a convenient pre-workout drink, it's fairly competitive.
Where to buy
You can grab the new Eddie Hall supplements, The In:EAA and The Pre-Workout Can, from Myprotein's online store, alongside its first two collaborations, The Pre-Workout and The All-In-One. The In:EAA is a bit more expensive next than the regular The In:EAA at £34.99 (42.96 USD) for a tub of 20 servings, and The Pre-Workout Can is £3.49 (4.29 USD) each or £19.99 (24.54 USD) for a marginally more cost-effective case of six, in the one Raspberry flavor.