Chemical BE is the newest supplement in Chaos and Pain's reputable series of muscle-building products, already including several other formulas such as Chemical OD, Chemical F, and the turkesterone and epicatechin combination Chemical TE. The brand's all-new Chemical BE does feature beta-ecdysterone as its main ingredient hence the "BE" in its name, although that is not where the list of components ends.
Chaos and Pain's Chemical BE is led by a solid dose of beta-ecdysterone at a gram in every four-capsule serving to support muscle strength and size. Alongside that, the brand has squeezed in half a gram of coleus forskohlii, another half a gram of the premium multi-benefit KSM-66 branded ashwagandha, yet another half gram dose of the PeakO2 performance blend, and 2.5mg of BioPerine black pepper.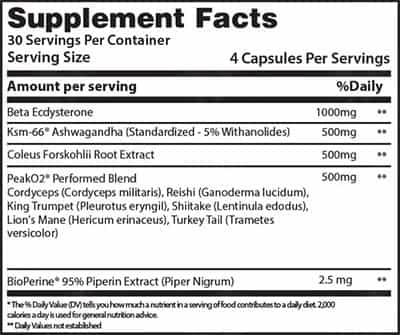 The ingredients Chaos and Pain has selected for Chemical BE make it easier to stack with other Chemical Series supplements, as there isn't any crossover, giving fans the freedom to simply throw it on top of any other Chemical product or stack of products. The downside is the brand doesn't have any stacks, including the supplement; however, it only dropped today, so that may be coming later down the road.
Chemical BE is available now through Chaos and Pain's online store at the higher end of the Chemical Series; in fact, it's the most expensive entry in the line at $64.99, just a bit above Chemical TE at $59.99. The brand is running a deal to celebrate the debut of Chemical BE, where if you grab a bottle of 30 servings, it'll throw in one bottle of each of the other Chemical supplements, Chemical F and Chemical T.