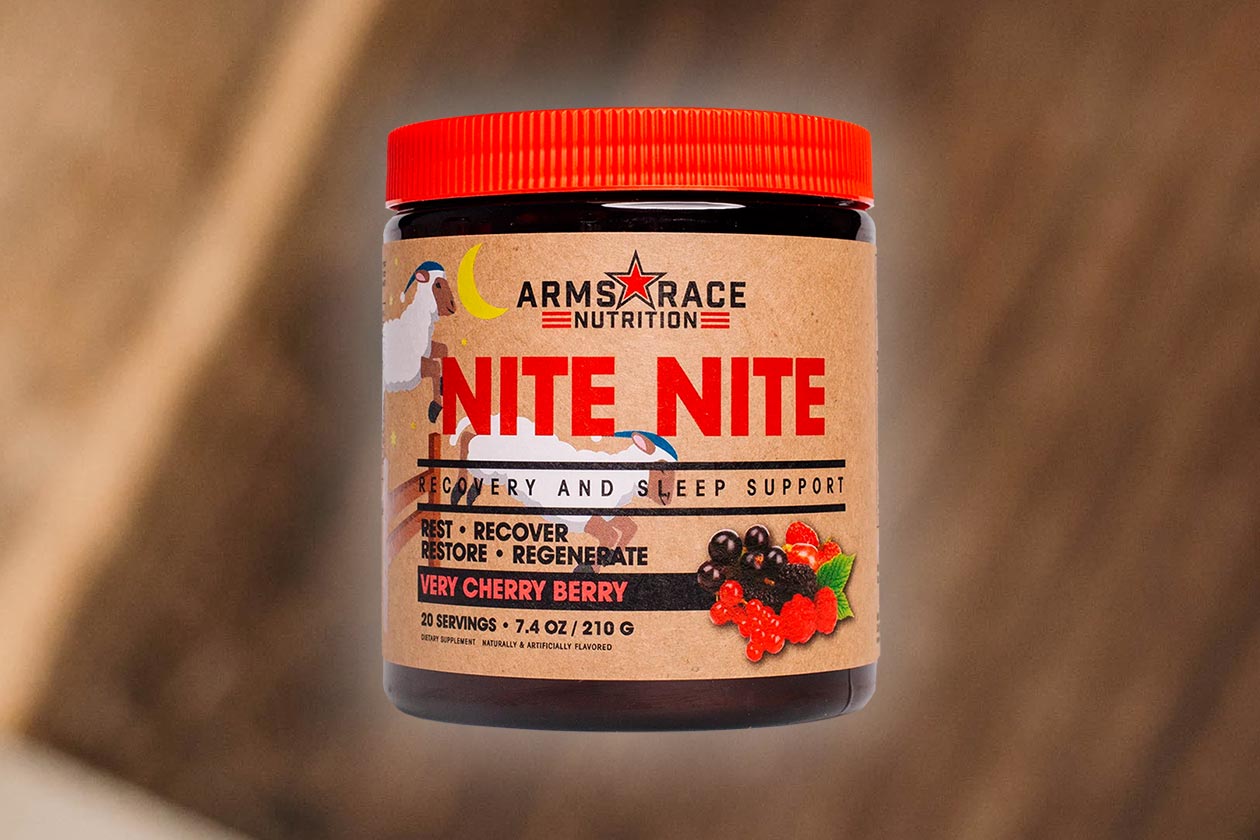 Nite Nite is the long-awaited nighttime supplement from Arms Race Nutrition, built to improve and optimize sleep and overall recovery, a crucial part of training. The tagline the brand has thrown on the product is fitting with "Rest. Recover. Restore. Regenerate." and it comes packed with eight reliable ingredients to do precisely that, including a couple of premium branded components.
An interesting point in Arms Race Nutrition's Nite Nite is that it has 20 servings per tub, not the usual 30, although it'll still get you through a full month when used as directed. The reason behind the 20 servings is the brand suggests you only use the sleep and recovery-supporting supplement on weekdays or five nights a week, and skip the others. There are other sleep products that do this, with the idea behind being it helps you not become dependent on it.
The formula driving Arms Race Nutrition's Nite Nite is, as mentioned, as well-put-together and well-formulated as we've come to expect from the brand, and have seen firsthand in all of its other supplements. It includes 3g of glycine, 200mg each of magnolia bark and theanine, 600mg of the multi-benefit and multi-study-backed KSM-66 ashwagandha, valerian root, and a hefty hit of chamomile.
Another key feature of Arms Race Nutrtion's Nite Nite is Zylaria, at half a gram a serving, which is something we actually reviewed by itself due to how effective it is. Combined with everything else the brand has brought together for its sleep aid debut, Nite Nite should have no trouble coming through on its promise of "Rest. Recover. Restore. Regenerate."
Arms Race Nutrition has made Nite Nite and its sleep and recovery optimizing formula available for purchase first through its online store at $49.99 for that full-size tub of 20 servings to get you through a full month. Nite Nite is a flavored powder product with two tastes to choose from at launch in Very Cherry Berry and fitting Lemon Chamomile, with the brand suggesting you take it 15 to 30 minutes before bed.