Serious Nutrition Solutions has debuted its highly-anticipated muscle builder Anabolic XT, showing once again how the brand has built its strong reputation. SNS lists off several benefits from the blend of high-end ingredients it has packed into the supplement with several of those premium components, all geared towards improving and supporting muscle building.
Anabolic XT is one of SNS' more higher-priced products, sitting at $59.99 for a bottle of 30 servings in its online store, although if you get in soon and take advantage of the brand's Labor Day Weekend sale, you'll get it for a lot less. SNS is offering a strong 30% discount for the occasion, using the coupon code "LABORDAY30", which brings Anabolic XT all the way down to $41.99.
You can see the complete list of ingredients SNS has squeezed into Anabolic XT in the facts panels below. The supplement's sizeable six-capsule serving comes with 100mg of black ginger, 600mg of ecklonia cava, and a solid 900mg of eucommia ulmoides. You then have the pure and potent premium components; 1.5g of SR10X symplocos, half a gram each of SA3X spilanthes and G70X panax ginseng, and lastly, 350mg of C30X cistanche extract.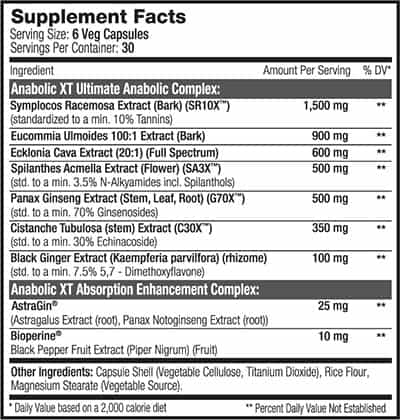 As mentioned, SNS has a laundry list of benefits for Anabolic XT, some of them featured on the front of the product, but all of them listed on the brand's website. The ingredients in Anabolic XT look to support weight loss and muscle retention, enhance pumps and performance, improve recovery and overall body composition, increase strength and lean gains, elevate testosterone levels, and improve well-being, making for one promising supplement.
Anabolic XT is indeed Serious Nutrition Solutions or SNS' first real muscle-building product, and it has really brought together something different. We've seen the brand drop robust, comprehensive formulas for many other categories, with Anabolic XT being another great example. Once again, it is available from the SNS website individually and in discounted bundles of three and four bottles.