Nutrabio's hardcore supplement company Unbound, which took home our Newcomer Of The Year award in 2021, has gradually grown its selection since its debut. Most of the additions to the lineup have been standalone products that can stack with its more advanced formulas in the likes of Epicatechin to support muscle building and Grain Of Paradise for fat loss.
Unbound Supplements has just dropped a completely new standalone supplement, and it is quite different from the other straightforward products it has available. The brand has named the supplement after its main ingredient with, 3D Pump Unleashed. The latest from the brand gives you a solid dose of the muscle pump-enhancing 3D Pump blend of citrulline, glycerol, and amla fruit extract, at 6g in a ten capsule serving.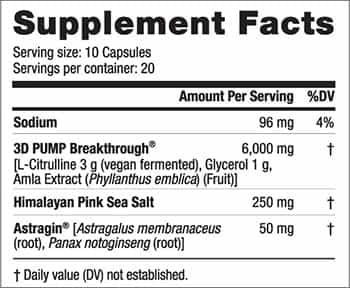 While 3D Pump Unleashed is the name of the product and the main ingredient, that's not all that's in there. Unbound has also thrown in 250mg of the hydration supporting Himalayan pink sea salt and 50mg of the premium and proven absorption enhancer AstraGin, making for quite a complex and stackable supplement.
Unbound Supplements' 3D Pump Unleashed is already in stock and available for purchase directly from its own online store at unboundsupplements.com, and it is reasonably priced at $29.99 for a bottle of 20 servings. The product is stackable and can be used alongside either or both of Unbound's pre-workouts, Unload and Unbent, with little crossover, and will obviously help elevate and improve muscle pumps even further.
If you get in soon, you can also use the limited time coupon code "3DPUMP" to discount Unbound's 3D Pump Unleashed by a solid 20%, bringing that price of $29.99 down an even more reasonable $24 a bottle.