CreaSmash is the newest creatine-based muscle-building supplement from Apollon Nutrition, taking over the hardcore brand's previously released Creatine-X. As with every new product, version, or competitor Apollon rolls out, CreaSmash is a step up from its previous entry in the space, featuring an even more advanced formula far beyond your typical standalone creatine monohydrate.
Apollon Nutrition's last creatine supplement, Creatine-X, did pack a complex combination of ingredients, with a full 5g of premium CreaPure creatine monohydrate, 150mg of elevATP, and 100mg of Senactiv to further drive performance. CreaSmash has all of those components with a slight change in creatine sources and the addition of more ingredients dedicated to performance, strength, and power.
The entire formula behind Apollon Nutrition's CreaSmash starts with 3.5g of CreaPure creatine monohydrate and 2.5g of NO3-T creatine nitrate; then you have that same 150mg of elevATP and 100mg of Senactiv. Next are all of the features the reputable brand has added to CreaSmash to separate it from Creatine-X and, again, turn the product into an even more comprehensive performance supporter.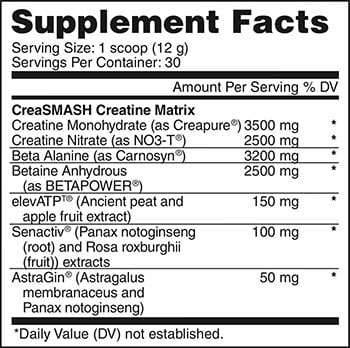 To go with the creatine, elevATP, and Senactiv, Apollon Nutrition has packed CreaSmash with 3.2g of premium and reliable CarnoSyn beta-alanine, 2.5g of BetaPower betaine, and a full 50mg of AstraGin to improve and enhance absorption of the combination. As mentioned, the brand is known for stepping things up in every replacement or reformulation, and CreaSmash does precisely that.
Creatine-X was already an advanced competitor in the creatine space, but without sounding too cliche, CreaSmash genuinely smashes that and gives Apollon Nutrition one of the most advanced creatine-based supplements out there with now an army of ingredients for strength, size, performance, and power. The product is arriving this Friday at $59.95 for a tub of 30 conveniently unflavored servings.