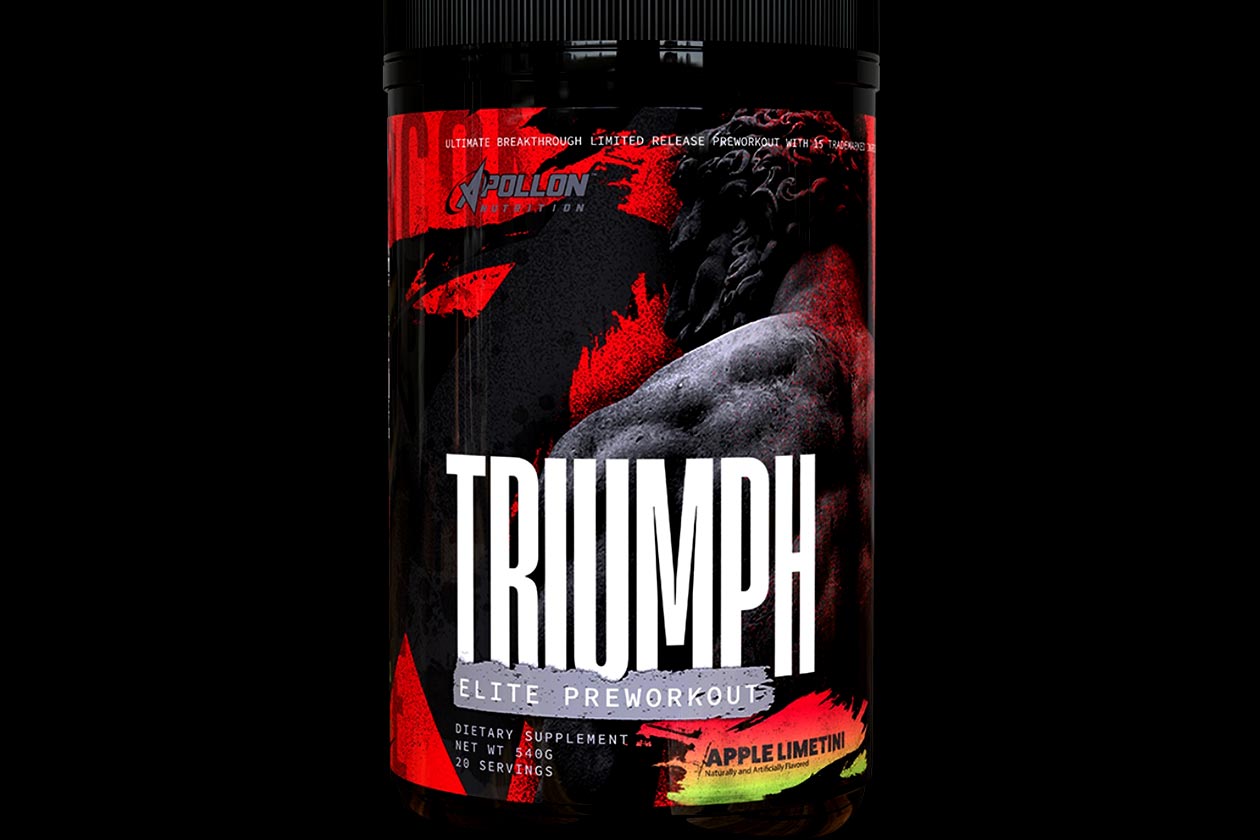 The moment fans of Apollon Nutrition have been waiting for is here, with the unveiling of its promising and absolutely packed-out pre-workout to cap off an impressive year. Officially launching at the end of this week on Saturday is a completely new supplement from the hardcore sports nutrition company named Triumph, and again, it is loaded with a huge 15 premium, branded ingredients, the most we've seen in a single product.
Elite pre-workout
Apollon Nutrition's Triumph is an extremely exclusive pre-workout that'll only be available for purchase through the brand's online store, and only a limited amount is being made. The formula powering the powerhouse supplement is well-rounded, with several ingredients supporting each of the core pre-workout benefits in energy, focus, pumps, and performance.
Loaded formula
We've got the facts panel for the truly premium pre-workout Triumph in the image above, and it has indeed left no stone unturned, putting together one of the most packed formulas you'll see in the competitive category. The list of highlights is incredibly impressive, as not only has Apollon Nutrition combined a whole host of reliable and premium ingredients, it has them at solid dosages for a heft serving size of 27g.
To power pumps, Apollon Nutrition has loaded Triumph with 8g of pure citrulline, 3g of NO3-T arginine nitrate, and 508mg of VasoDrive; then, for performance, you have 3.2g of CarnoSyn beta-alanine, 150mg of elevATP, 2.5g of BetaPower betaine, and 100mg of proven Senactiv. Filling out the sensory side of the pre-workout are the likes of enXtra, NeuroPEA, CognatiQ, 600mg of AlphaSize alpha-GPC, and a total of 450mg of caffeine.
Apollon Nutrition is proudly promoting Triumph as its most premium pre-workout to date, and rightfully so. The brand has well and truly not cut any corners or fallen short in any area of the formula, throwing in as much as possible to support everything from energy and focus to pumps and performance. Seeing how it performs in the gym will be extremely interesting, although based on Apollon's other pre-workouts, it will deliver.
Where to buy
Once again, Apollon Nutrition is releasing its powerhouse Triumph pre-workout this coming Saturday, exclusively through its online store at apollonnutrition.com and at its gym in Edison, New Jersey. The price of the supplement will be a bit higher than any of the brand's other pre-workouts, such as Hooligan, Assassin, and our favorite, Lionheart, at $79.95 for a tub of 20 maximum servings in an Apple Limetini flavor.