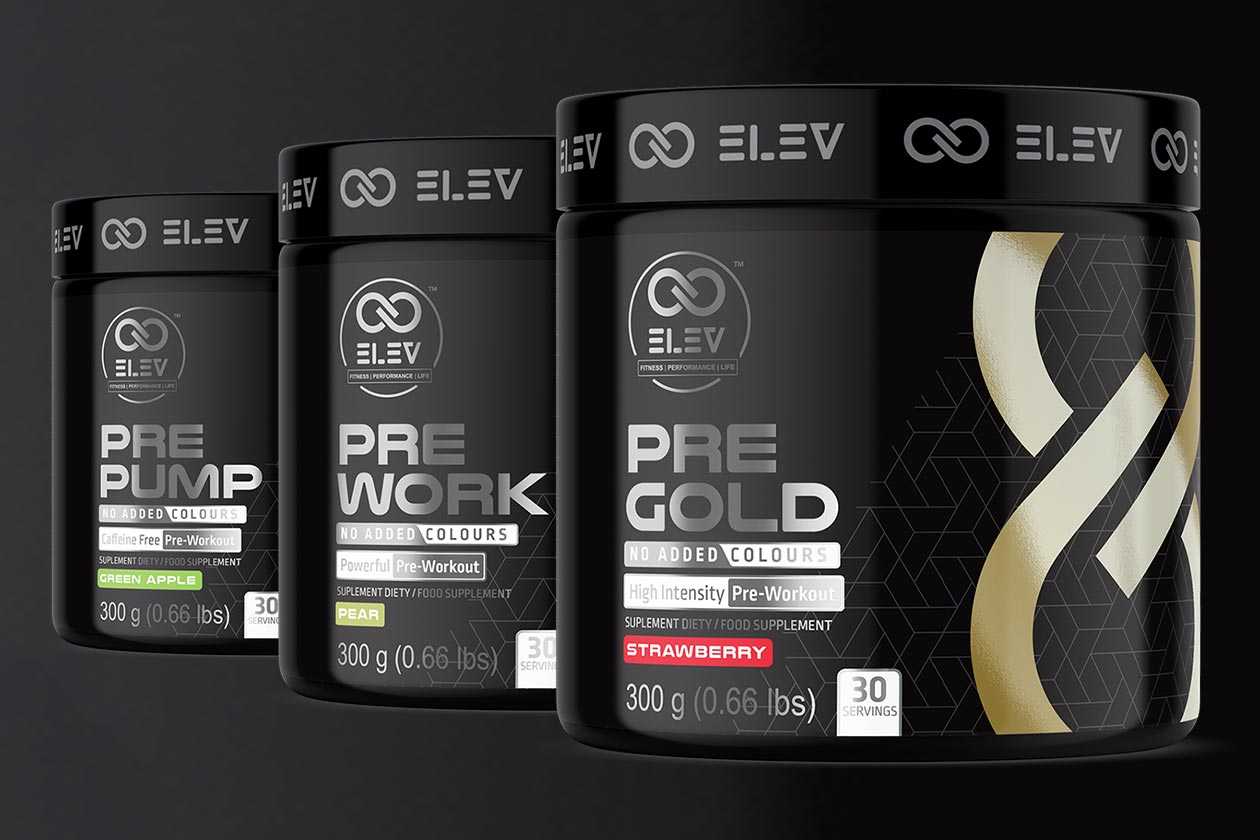 Similar to when it recently introduced a few protein powders, the growing international brand Elev Global has announced its entry into the pre-workout category, and it has more than just one supplement for the space. The sports nutrition company has cooked up three separate products, all featuring similar but individual formulas, each with its own point of difference and purpose.
Pre-Work
First up is Pre-Work, Elev Global's mainstream pre-workout, featuring common ingredients at low to moderate dosages, including 3.5g of citrulline malate, a gram of arginine, half a gram of creatine HCl, and 1.6g of beta-alanine. There is 150mg of caffeine, leaving room to double serve, which would then bump up all of its dosages to some more competitive amounts, such as 7g of citrulline malate and a gram of creatine HCl.
Pre-Gold
Next up is Elev Global's premium pre-workout, a more advanced alternative to Pre-Work, in Pre Gold. It has many of the same features in its formula as Pre-Work, such as 3.5g of citrulline malate, 1.6g of beta-alanine, and the same 150mg of caffeine. Where it mixes things up is in place of creatine is Glycevol glycerol for pumps, instead of phenylalanine there is choline bitartrate, and 125mg of rhodiola replacing schisandra.
Pre-Pump
The last entry in Elev Global's family of pre-workouts is Pre-Pump, a stimulant-free, pump-powering pre-workout that can be stacked with either of those other two. The ingredients and dosages in this are similar to Pre-Work and Pre-Gold with 3.5g of pure citrulline, not citrulline malate, a heightened 2g of beta-alanine, a gram of Glycevol glycerol, grape seed, and betaine, but as mentioned, no caffeine or stimulants of any kind.
Summary
Elev Global's Pre-Work is a more balanced pre-workout, while Pre-Gold is the step up, offering a creatine-free alternative with slightly more for pumps and focus, then finally, you have Pre-Pump specifically to enhance pumps. It's an interesting set of supplements that gives the brand some presence in the highly competitive pre-workout category, and it offers fans options with the two stimulant options and the stackable Pre-Pump.
Pre-Work, Pre-Gold, and Pre-Pump are rolling out to Elev Global retailers shortly, each packing the usual 30 servings, or 15 if you want to double up for twice the dosages and the more advanced experience. The three pre-workouts are also launching in the same seven different flavors in Green Apple, Strawberry, Raspberry, Pear, Watermelon, Mango, and Pineapple, although Pre-Pump does have an eighth option in Cola.