Sports nutrition brand Force Factor is known for several supplements, although one of its most popular and widely available items is its series of testosterone boosters, TestX180. There is a newly released member of the TestX180 family, which brings together the product's signature test-boosting category and pre-workout, to create the aptly named TestX180 Pre-Workout.
Force Factor's TestX180 Pre-Workout is a blend of testosterone-boosting ingredients and a pre-workout, and it's brought together a robust selection of components on both sides. To deliver on the TestX180 name, the brand has packed the supplement with the premium, proven, and multi-benefit KSM-66 ashwagandha at its researched 600mg per serving, plus 200mg of boron citrate.
While KSM-66 ashwagandha takes care of the testosterone-boosting portion of TestX180 Pre-Workout, Force Factor has not held back on the pre-workout part of the supplement. The brand has combined several reliable ingredients, including 3g of pure citrulline for pumps, 750mg of CON-CRET creatine HCl, 1.6g of high-quality CarnoSyn beta-alanine, half a gram of tyrosine for focus, and lastly, a total of 225mg of caffeine.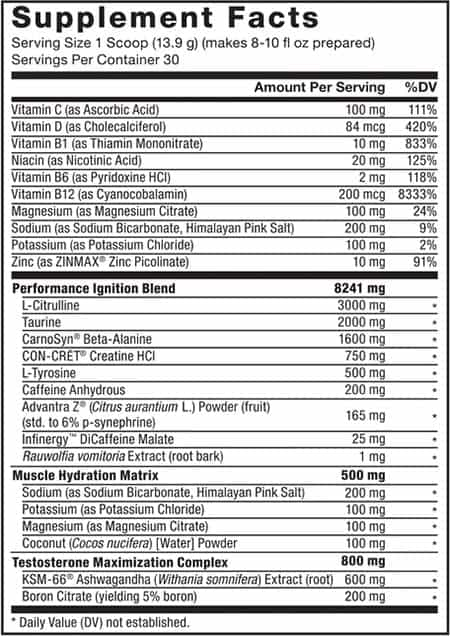 There are plenty of TestX180 branded supplements on the market with the likes of TestX180 Alpha, TestX180 Boost, TestX180 Unleashed, and even TestX180 Gummies, and they're all focused on the same sort of area. TestX180 Pre-Workout really mixes things up, calling on the strength of the testosterone-boosting name and bringing it into the world of pre-workouts.
Force Factor has launched its hybrid testosterone-boosting pre-workout TestX180 Pre-Workout through its retailer, The Vitamin Shoppe, and currently, there is a substantial discount on the product. If you visit Vitamin Shoppe shortly, you can drop the supplement's regular price of $44.99 for a tub of 30 servings from $44.99 down to $33.74 in your choice of Blue Raspberry and Fruit Punch flavors.