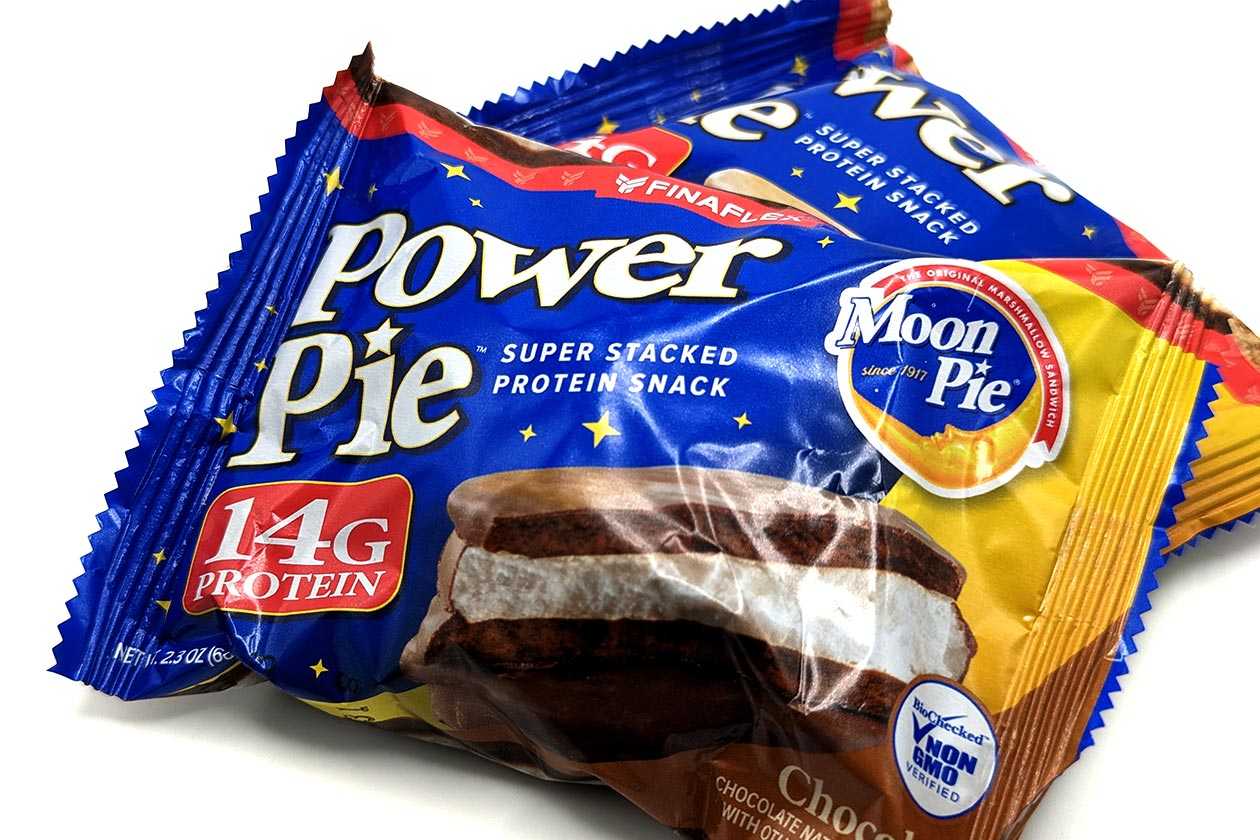 Finaflex teamed up with the legendary MoonPie last year to create the innovative and genuinely industry-first Power Pie protein snack. What makes it so unique is that it's a collaboration where the sports nutrition brand has brought the format of the partner with them. Instead of making a protein powder or protein bar that tastes like MoonPie, Power Pie is in that classic MoonPie sandwich format with more protein and less sugar.
Ever since Finaflex and MoonPie came out with Power Pie we've been eager to get our hands on it, and while we are late to the party, we finally got our hands on a bunch, and it does not disappoint. We can imagine loyal eaters and snackers of the original MoonPie will notice the drop to half the sugar and infusion of protein, but for those that frequently throw down a protein bar or treat, this one is something you need to try.
Review
Finaflex's collaboration with the iconic MoonPie does stay true to the inspiration, featuring a similar sort of build on the inside with the balance of each area slightly different; however, that doesn't hold it back. Inside the wrapper of Power Pie is two impressively smooth and crumbly biscuits, clearly larger than MoonPie's, a thinner and soft creamy layer in between the biscuits, then all wrapped in a chocolate or vanilla coating.
Power Pie is well and truly a blend of an absurdly delicious protein snack and MoonPie; it doesn't completely nail the experience of the long-running, high-sugar MoonPie, but again, it leaves many other protein snacks in the dust. The coating around the outside is noticeably sweet, with both the Chocolate and Vanilla flavors popping off with each mouthful.
As you bite through the Finaflex's sizable 66g Power Pie, your teeth sink through the chocolate or vanilla outer, and the biscuits inside seamlessly crumble and mix in with the sweet coating. Finally, you get to the middle, where the signature filling has a mild marshmallow taste and a genuinely creamy consistency. It all rolls together for one of the most individual and enjoyable protein-snacking innovations we've had in a very long time.
It is worth noting that while Finaflex's Power Pie is high in protein, it's not anywhere near as lean as your typical protein bar and far off a protein shake. It packs 14g of protein, 8g of fat, 27 to 28g of carbohydrates, 10 to 12g of that sugar, and 290 to 310 calories. Again, the macros aren't overly light, which for us, categorizes it as a protein treat, something that's a nice alternative to a sugar-loaded candy and aims for a similar experience.
Summary
Protein snack connoisseurs and functional food fanatics that like to try unique products, or anyone wanting to trade a candy bar or high-sugar treat for something with less sugar and more protein, Power Pie is a must. It doesn't have any sort of density or chewiness to it like many protein-infused foods, it hits the sweetness out of the park, and does the original justice. The worst part is it's incredibly hard to stop eating once you've started, and that goes for both the Chocolate and Vanilla flavors.