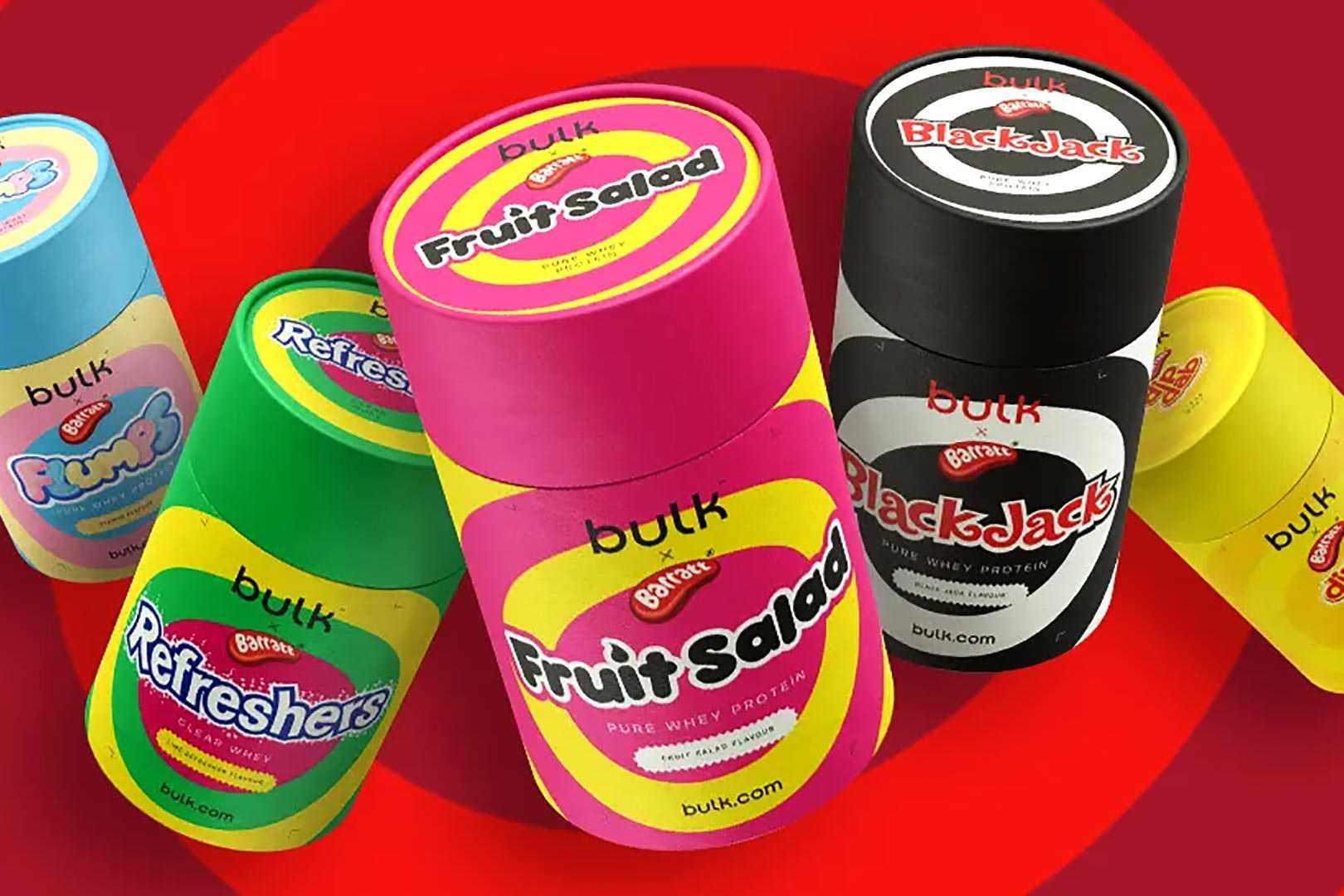 Bulk partnered with the classic candy Millions back in 2021 for an authentic series of Millions-themed flavors for a variety of its popular supplements. It was a fun and colorful collaboration, and all of those products are still very much available through the sports nutrition giant's online store. If you head to bulk.com, you'll see another authentic series from Bulk, put together with the confectionary company Barratt.
Bulk has teamed up with the long-running Barratt for five flavors, each based on a different sweet from the Barratt family, and almost all of them are for a different Bulk supplement. There is a Refreshers flavor for Pre-Workout and Clear Vegan Protein, the raspberry and pineapple chewy candy Fruit Salad for BCAA, Flumps and Black Jack Pure Whey Protein, and a flavor of Clear Whey based on the lollipop and sherbet treat Dip Dab.
Both Bulk and Barratt are UK companies, so you might not be overly familiar with Refreshers, Fruit Salad, Flumps, and Dip Dab if you're not from that part of the world, but over there, they are well-established sweets. Each of the collaborations is designed to be similar to the original candy, and they all have a similar alternative label design, but each with its own suitable colors, like the pink and yellow Fruit Salad BCAA.
You can grab any or all of Bulk and Barratt's authentic flavor collaborations over at bulk.com at £29.99 for Flumps Pure Whey Protein, £34.99 for Refreshers Clear Vegan Protein and Dip Dab Clear Whey, and £39.99 for Refreshers Pre-Workout and Fruit Salad BCAA. To go with the launch, the brand is also offering 40% off any of those items, which is a substantial discount and a great way to introduce the products.