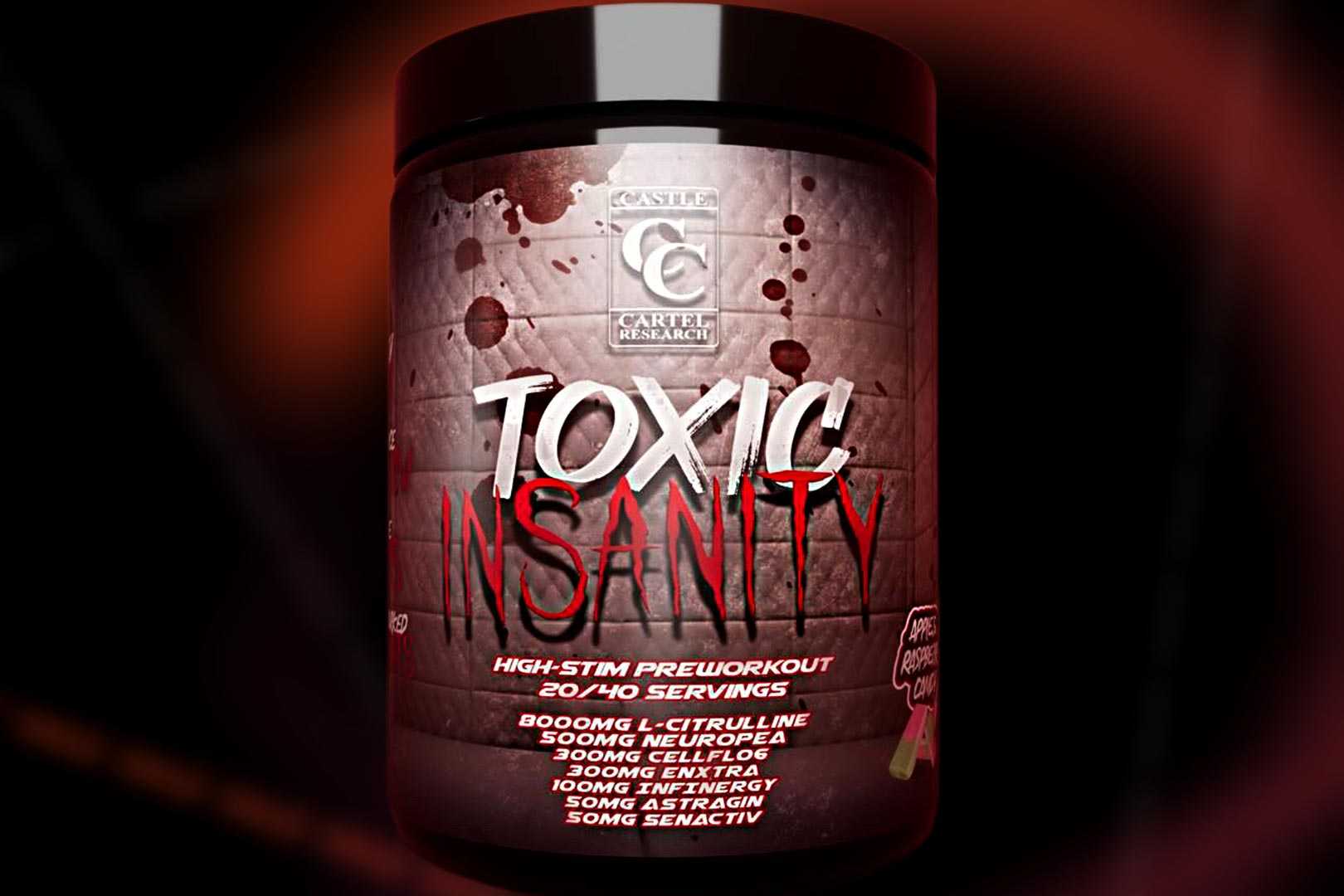 Castle Cartel has put together two relatively robust and intriguing supplements so far in its young life in the industry; the first one was the muscle builder Toxic Masculinity, and the second, yet-to-be-released item, is Toxic Vascularity. As with any new and growing brand, Castle Cartel is already hard at work on another addition to its lineup, which we have a preview of today in Toxic Insanity.
Toxic Insanity is going to be for the category almost all newcomers enter right out of the gate in a stimulant-powered pre-workout. While Toxic Vascularity is Castle Cartel's stimulant-free competitor, Insanity is sort of the opposite, being significantly more centered around delivering an intense blend of energy and focus. The sensory side will be a major part of the product, although it does have components for other benefits.
You can see what the third supplement from Castle Cartel is going to look like in the image above, and like its other two, Toxic Insanity does rattle off several of its key ingredients on the front of its label. Helping drive the energy and focus in the pre-workout will be half a gram of NeuroPEA, 300mg of premium Enxtra, and 100mg of Infinergy alongside presumably a strong amount of caffeine anhydrous.
Castle Cartel has also squeezed in 8g of pure citrulline into Toxic Insanity for better muscle pumps, 300mg of CellFlo6, 50mg of proven Senactiv for performance, and finally, as always, 50mg of AstraGin to improve absorption and efficacy. There is more to the formula, but from what we've seen so far, Toxic Insanity is certainly shaping up to be a packed-out pre-workout, similar to what you get in Toxic Masculinity and Toxic Vascularity.